About
Our strategy
Team Bath is the name and logo which binds together all the activities of the Department of Sports Development and Recreation at the University of Bath.
Our aims are to:
Constantly enhance our sporting environment and culture to the benefit of all of our customer group.
Ensure that sport plays its part in creating a first-class student experience at Bath – not only through sport itself but related physical activity and sports-based personal development opportunities.
Make sure that sport plays its part in telling the University's story to the national and international community, assisting in high-achieving undergraduate and postgraduate recruitment.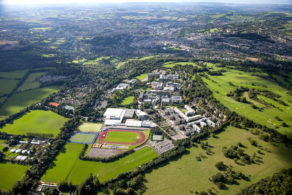 To underpin these aims it is our job to provide an inspirational sports and fitness environment for athletes of all ages and abilities from beginners to elite athletes and from recreational to competitive. Our international standard £35million Sports Training Village is backed by a centre of expertise in physiotherapy, sport science and athlete development.
Our delivery is supported by our dedicated team of staff based at the Sports Training Village who maintain our high standards.
For more information about any areas of our service, explore the Team Bath website or feel free to contact a member of our friendly team.
We look forward to seeing you in the Sports Training Village soon.
Customer Charter
View our Customer Charter [PDF]
View our Safeguarding Policy [Link]
Our welcome

A welcome message from Team Bath Director of Sport Stephen Baddeley.

Read More

Our history

Take a journey through the years at the University of Bath, covering our sporting achievements since the University gained Royal Charter status in 1966.

Read More

Our people

The Department has a dedicated team of staff members led by Director of Sport Stephen Baddeley. Find out more about our senior management team.

Read More