Exercise class descriptions
Our group exercise classes are split into three categories – aerobic, body and calm. Click here to view the latest timetable.
Aerobic classes
Burn: This high-intensity workout will work your heart and lungs like no other. Intense blasts of cardio and high-rep weights will ensure you push your body to its limits.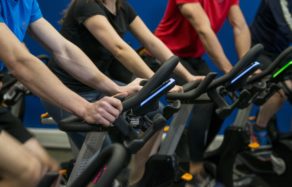 HIIT: Challenge yourself via short bursts of high-intensity interval training. Exercises target the whole body as well as get your heart pumping. Anyone can attend this class because there will be easier and harder options for each exercise.
Latin Fit (virtual): An innovative freestyle workout that incorporates Latin dance steps as the foundation for a fun and exhilarating cardio dance fitness. This workout – led by Madrid-born Maria Cristina, who has been a Flamenco, Danza Española and ballet dancer most of her life – will lift your spirits while burning calories, improving flexibility and tone.
Pilates: Improve your posture, mind-body connection, core strength and breathing techniques.
Target Cycling: A unique indoor cycling class using target metrics and colours to take your fitness/experience to new levels.
Zumba: The class that started the dance-fitness revolution – it's fun, effective and embraces inclusiveness. Everybody is welcome!
Body
Barre Fit (virtual): Tone your body with ballet conditioning techniques led by experienced tutor and dancer Tamsyn Butt. Suitable for those with ballet experience as well as total beginners, the class is a minimal impact but all-over body workout which tones the thighs and arms, flattens the stomach and lifts the bottom.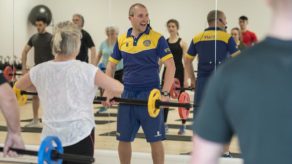 Body Conditioning: How many exercises can you do with a barbell? Come along and see why this classic class, which simply uses a barbell to hit all major muscles, is still so popular and gets results.
Circuits: Traditional circuits at its best. Work your way through stations targeting muscles like only circuits can, using a combination of weights and body weight to get the body you crave.
Core Blast: Get that mid-section you have always wanted using a combination of exercises that target your abs, back and bum.
Kettlebells: One type of kit, one type of goal. Perform exercises that are exclusive to kettlebells and see the results.
Olympic Lifting: Teaches the principles of Olympic lifting which hits your whole body. See your strength increase, technique improve and body change. Please note there is an additional cost of £8 per session for this class with discounts available for package bookings, ask at reception for more details.
Rig Con: A 25-minute HIIT session using the bespoke rig area in Gym 1, newly refurbished in 2022 with brand-new air runners, ski ergs and bikes.
TRX Circuits: The ultimate TRX workout using the TRX Bay in Gym 2 consisting of battle ropes, RIP trainers and much more.
Calm
Flowflex fusion: Focus on mobility, flexibility, strength, balance, breathing, mediatation and calming in this class featuring elements of yoga.
Yoga: Ditch the shoes, grab a mat and take time to focus on improving not only your strength and flexibility but also breathing and relaxing techniques.