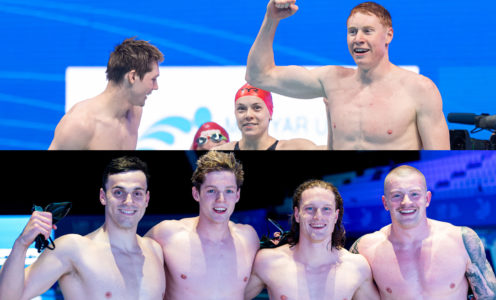 University of Bath-based swimmers brought home a terrific 25 medals from the 2021 LEN European Championships in Budapest as they showed fantastic form in the last major competition before the Tokyo Olympic Games.
Leading the way with six medals apiece – the most of any swimmers competing at the Championships – were British Swimming National Centre Bath trio Freya Anderson, Tom Dean and James Guy, who are all coached by David McNulty in the London 2012 Legacy Pool.
Guy finished a busy week on a fitting high on Sunday as he produced two phenomenal swims to win 100m butterfly bronze – dipping under 51 seconds in both the final and the heats – and gold in the men's 4x100m medley relay in a championship-record time of 3:28.59.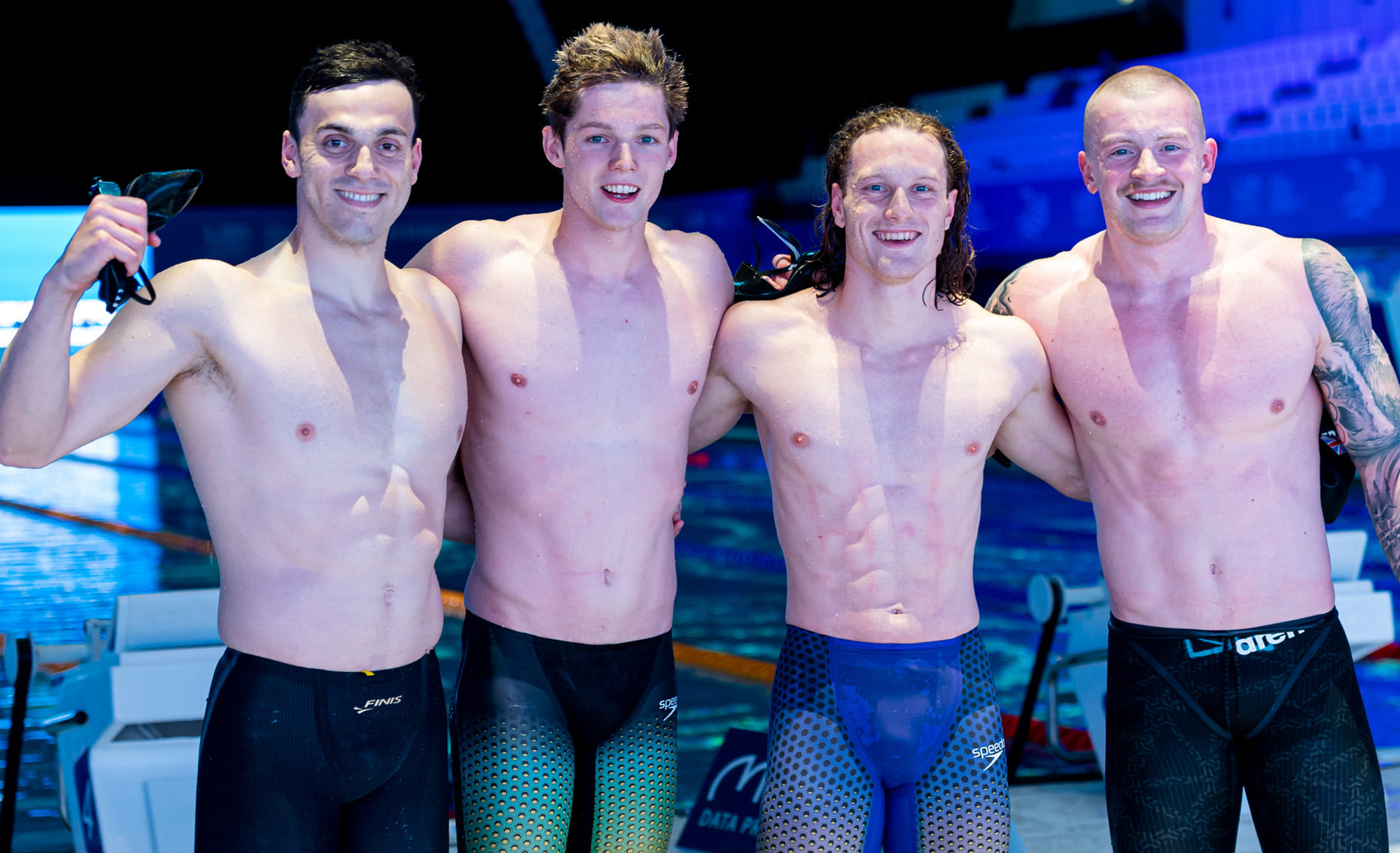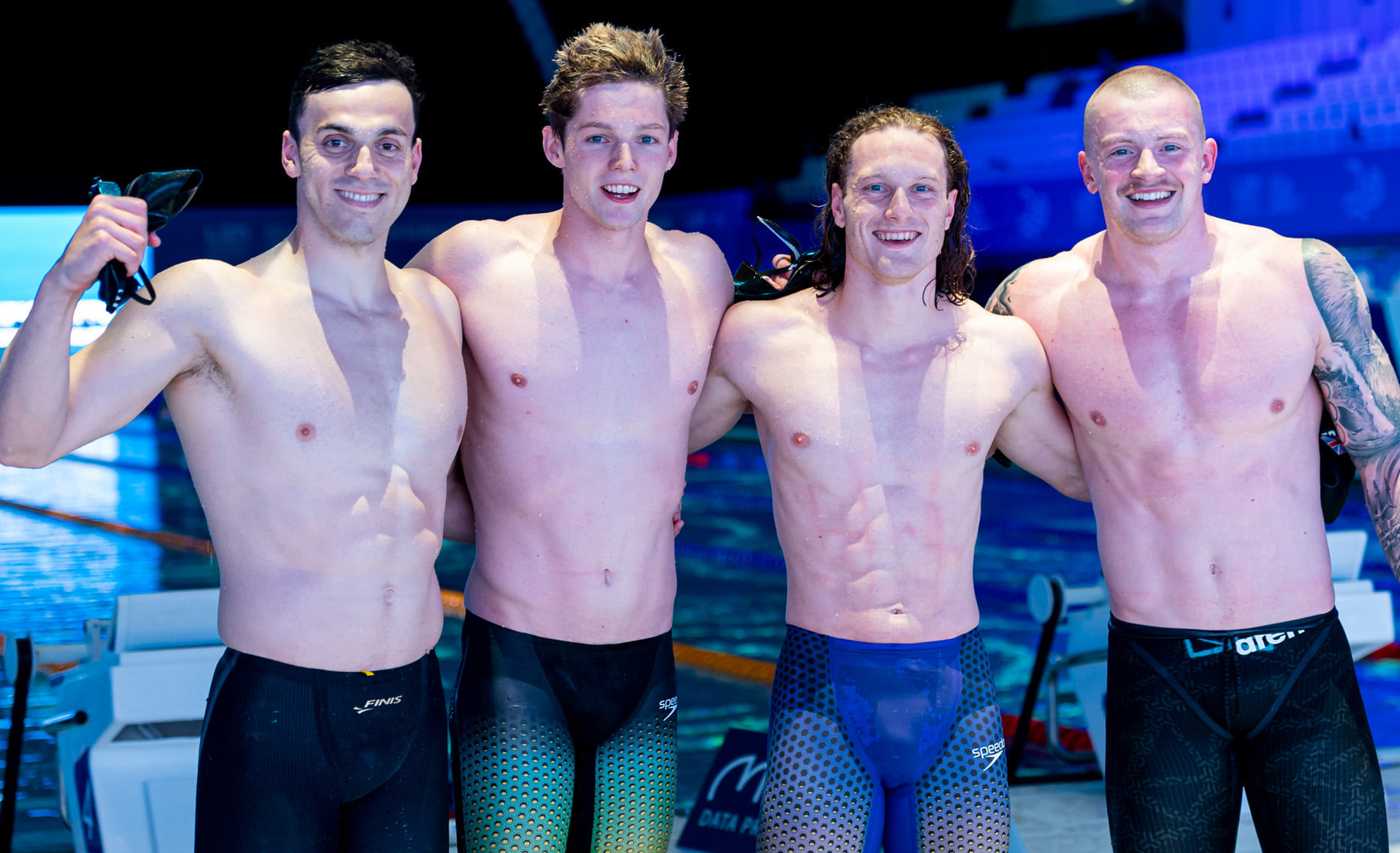 "It's been four years since I last went 51 and I've done it twice this week," said Guy, one of nine University-based swimmers selected to represent Team GB in Tokyo this summer.
"It shows I'm in a good place and what I'm doing with Dave at the Bath National Centre is working. Training with Tom Dean has helped massively, and my girlfriend, everything is coming together in and out of the pool. I can't wait for Tokyo now."
Mechanical Engineering student Dean, who is supported by a Bill Whiteley Sporting Scholarship, helped GB reach the medley final and was rewarded with his third relay gold of the week. He also claimed his first senior individual European medal after bagging bronze in a thrilling 200m freestyle final on Friday.
"The momentum in the GB team is unlike anything I've ever felt," said Dean. "This is something really special and it just makes me so excited for two months' time out in Tokyo."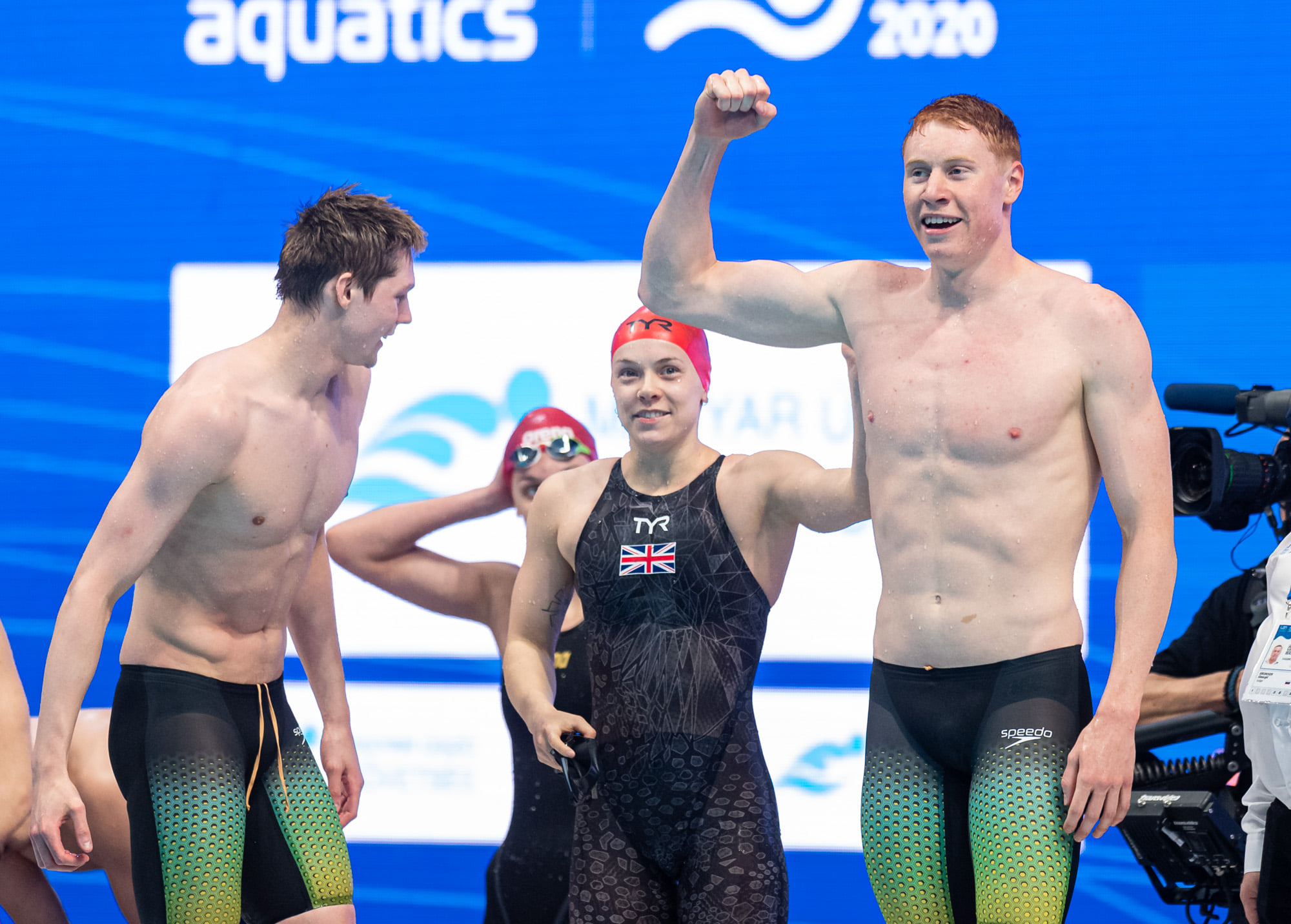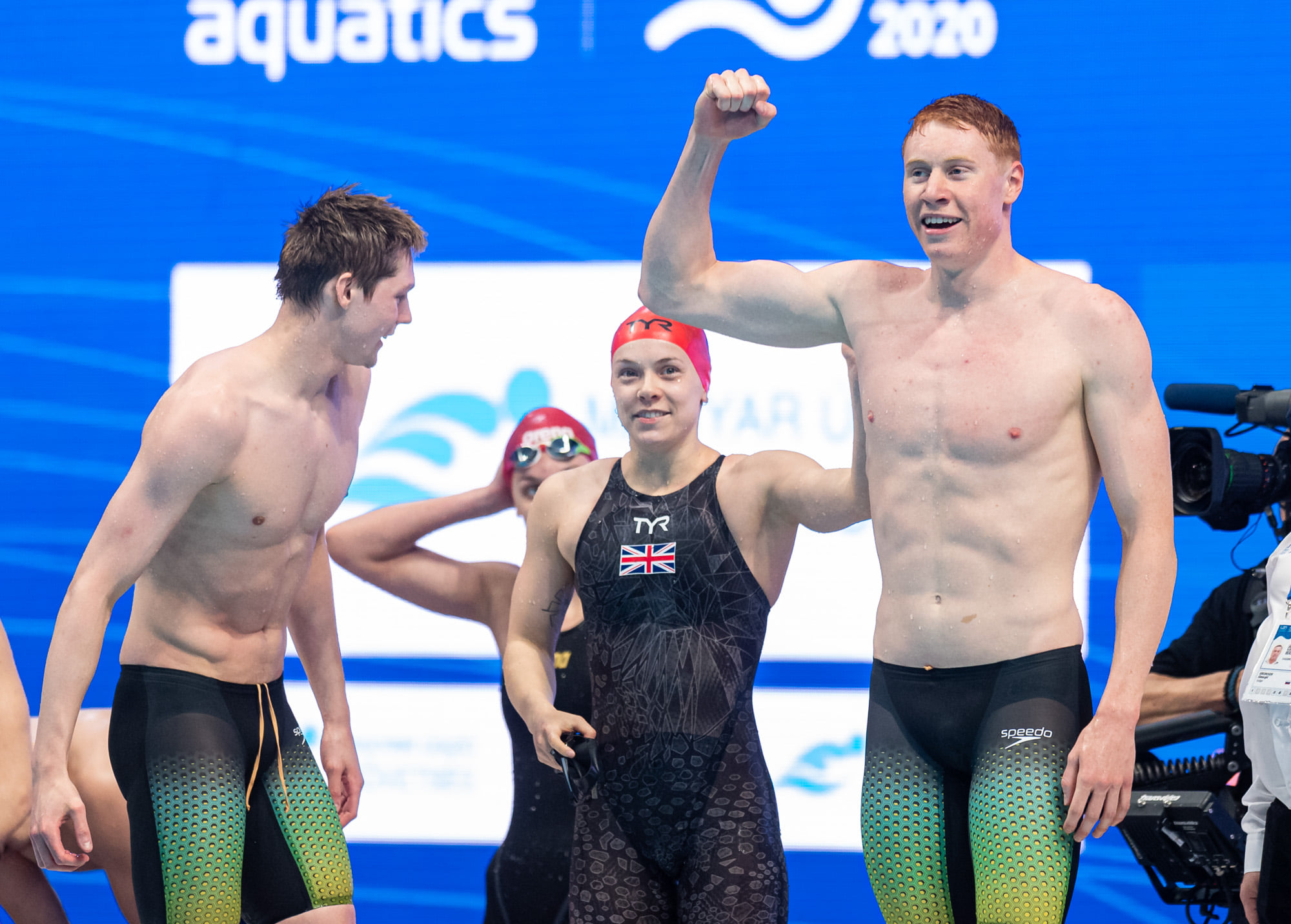 Anderson's six medals also featured 200m freestyle bronze plus five relay golds, where she was joined by training partner Holly Hibbott in winning the women's 4x200m free title on Friday.
She also anchored a mixed 4x100m freestyle quartet featuring Dean and University of Bath alumna Anna Hopkin to gold in a championship-record equalling time on Saturday and said: "What was going through my head was just to keep building on the success the relays have had. I think all the relays with girls in have won gold, so I didn't want to let that statistic down!"
Hopkin, who was part of Mark Skimming's University swim squad while studying Sport & Exercise Science at Bath, finished the week with five medals including individual bronze in the 100m freestyle.
"I'm so happy," she said. "I had in the back of my mind that a medal could be possible but I didn't want to think about it too much. This week has been a real confidence boost and I think I've built nicely through the week too."
Former World Champion Ben Proud, who has recently joined Skimming's training group at the University as he works towards a second Olympic Games, added European silver to his large medal collection following a fast and furious 50m freestyle final on Sunday.
"It's all about practising the round-to-round swims, working on the little details and getting faster each time," said Proud. "We're not fresh, we're not ready, that will come in two months. Right now, it's about getting yourself into the race, trying to get your hand onto the wall."
Earlier in the week there had been two superb silver medals for National Centre Bath swimmer Matt Richards, coached by Jol Finck, alongside Dean and Guy in the men's 4x100m and 4x200m freestyle relays. Sports Performance graduate Calum Jarvis also claimed silver in the latter and gold in the mixed 4x200m freestyle after helping GB qualify for both finals.
Attention now turns to the Tokyo Olympic Games, with preparations continuing at the Team Bath Sports Training Village before the swimming competition begins in exactly two months' time (24th July).
Meanwhile, Team Bath AS swimmer Stephanie Millward – an inductee into the University of Bath Hall of Fame for Sport – won women's S9 100m backstroke bronze at the World Para Swimming European Open Championships, which took place in Madeira.
The double Paralympic champion, who also reached the S9 50m freestyle and SB8 100m breaststroke finals, said: "It always feels absolutely fantastic to bring home any medal, it doesn't matter what colour. Any medal is incredible and I feel so privileged to be a part of this."
European Championships roll of honour
Gold: Women's 4x100m freestyle (Freya Anderson, Anna Hopkin); mixed 4x200m freestyle (Anderson, Dean, Guy, Calum Jarvis); mixed 4x100m medley (Guy, Hopkin); women's 4x200m freestyle (Anderson, Holly Hibbott); mixed 4x100m freestyle (Anderson, Dean, Hopkin); men's 4x100m medley (Guy, Dean, Richards); women's 4x100m medley (Hopkin, Anderson).
Silver: Men's 4x100m freestyle (Dean, Guy, Matt Richards); men's 4x200m freestyle (Dean, Guy, Richards, Jarvis); men's 50m freestyle (Ben Proud).
Bronze: Women's 200m freestyle (Anderson); men's 200m freestyle (Dean); men's 100m butterfly (Guy); women's 100m freestyle (Hopkin).
Other European Championships reports from this week
Preview: https://www.teambath.com/2021/05/17/european-swimming-championships-budapest/ 
Day 1: Bath-based quartet help British Swimming make relay history during record-breaking start to 2021 LEN European Championships
Day 2: Another relay medal and another British record as Bath-based trio continue fantastic start to 2021 LEN European Swimming Champs
Day 4: Tokyo anticipation building as University of Bath-based swimmers add to growing medal haul at LEN European Championships in Budapest