British Universities and Colleges Sport (BUCS)

More than 1,000 students represent the University of Bath in British Universities and Colleges Sport (BUCS) competitions each year and the University holds a strong record of finishing high up in the overall BUCS rankings.
Home matches are played on Wednesday afternoons at venues across the University campus including the Sports Training Village, the St John's and SITEC pitches, and the Founders' Hall.
Show your support for the Blue & Gold!
Latest results
Click here to see how the Blue & Gold fared in matches on December 5, 2018.
BUCS points table 2018-19 (as of December 5)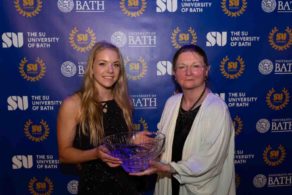 Click here to see the full table.
Blues Awards 2018
The Blues Awards ceremony is an annual celebration of student sport at the University of Bath. Sport & Exercise Science student Anna Hopkin, a swimmer who medalled at the Gold Coast 2018 Commonwealth Games, won the Sports Personality of the Year Award in 2018 and was presented with his prize by Professor Dame Glynis Breakwell, who is Vice-Chancellor of the University of Bath. Click here to see a full list of winners.
Students' Union sport
Students' Union Sport Officer for the 2018-19 academic year is Andy Galloway, in his first year in the post. Andy looks after all of the sports clubs and their committees including training, club development and finances. He oversees the SU's recreational and social sport activities, events such as Snowball and Varsity, coaching qualifications for committees and volunteer recognition.
For more information make sure you visit bathstudent.com/sport.
Andy is contactable via email at susport@bath.ac.uk or follow SU Sport on twitter (@BathSUSport) to stay up to date.
Get involved in student sport
For the latest information about how to join a student sports club at the University of Bath, see the Student Sport website.
For other enquiries, contact susport@bath.ac.uk.