University of Bath Rowing Club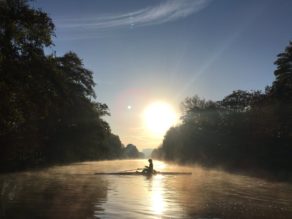 The University of Bath has a vibrant student rowing club which fields competitive crews for British Universities and Colleges Sport (BUCS) events and at Henley Royal Regatta.
The Club also welcomes first-time rowers who wish to explore the basic principles of rowing.
Dual Career
Talented rowers looking to combine performance rowing with a prospective degree at the University of Bath may be interested in the Dual Career programme offered by the University.
Dual Career athletes enjoy financial support for access to various fitness and physiotherapy facilities at the Sports Training Village, and can also apply for a scholarship for further funding.
How to get involved
To find out more information about the Rowing Club, visit thesubath.com/sport/clubs/rowing.