Birmingham 2022 Commonwealth Games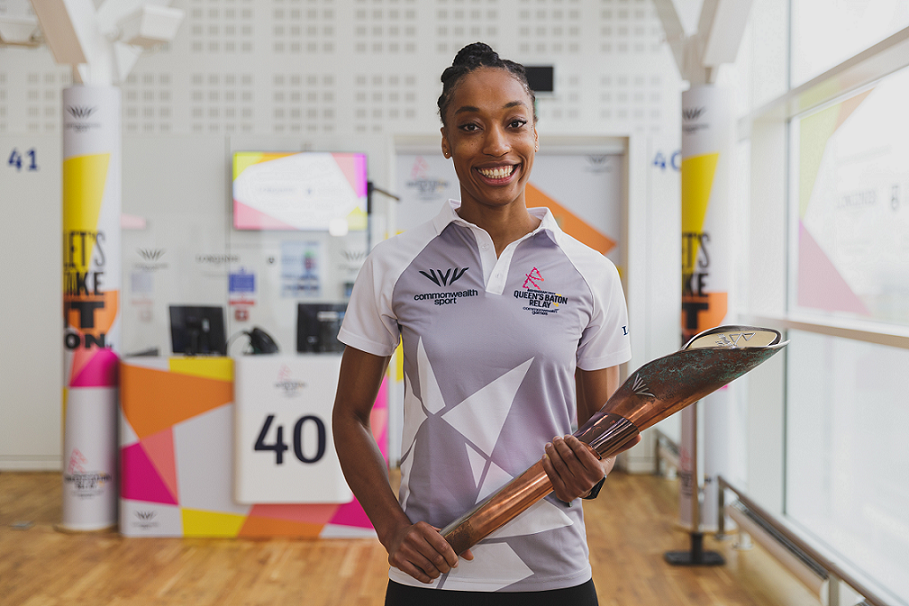 Sportspeople based at the University of Bath across a wide variety of sports are aiming to compete in front of a home crowd as Birmingham hosts the Commonwealth Games in 2022. 
An impressive 44 medals were won by athletes training at the Team Bath Sports Training Village during the 2014 and 2018 Commonwealth Games in athletics, judo, netball, swimming, triathlon and weightlifting among others.
The 2022 Games will take place at venues across the West Midlands from July 28 to August 8. We will update this page with news, information and team selections during the build-up.
Team Bath Netball star Layla Guscoth had the honour of sending the Queen's Baton Relay on its way around the world from her home city of Birmingham in October 2021 (pictured above). Click here to find out more. The Baton will be coming through the city of Bath on 5th July 2022.
Click here to see a full guide to the athletes who either train at the Team Bath Sports Training Village or are graduates of the University of Bath, who have been selected to compete at the Birmingham 2022 Commonwealth Games. 
Track-and-field brothers Cameron and Alastair Chalmers, both Sports Performance graduates, were the first University of Bath-associated sportspeople to be officially selected for Birmingham 2022 when they were named in the Guernsey squad in November 2021. Click here for the full story. They will be joined in the Guernsey athletics squad by Economics student and Team Bath Dual Career athlete Abi Galpin.
Nine Bath-based swimmers – including Olympic Champions Tom Dean, James Guy and Freya Anderson – and two graduates have been selected to represent Team England this summer. Click here to read more.
Three more swimmers, including Olympic gold-medallists Calum Jarvis and Matt Richards, will represent Team Wales, as will Team Bath judoka Gregg Varey – click here for more details.
Team Bath Netball players Sophie Drakeford-Lewis and Layla Guscoth have been selected in the England squad looking to defend the historic crown they won in 2018, while fellow Blue & Gold Superleague star Phumza Maweni will be representing South Africa.
Economics and Mathematics student Niall Caley has been selected to represent the Isle of Man in triathlon. He is part of the University's triathlon squad. JohnPaul Balloqui, a Civil and Architectural Engineering student coached by Mark Skimming, will represent Gibraltar in the swimming pool.
Countdown to the Games