Birmingham 2022 Commonwealth Games
History-making athletes who train, study or studied at the University of Bath finished the Birmingham 2022 Commonwealth Games with a fantastic 33 medals between them– seven gold, 17 silver and nine bronze.
Leading the way with seven medals was Bill Whiteley Sporting Scholar Tom Dean, whose one gold and six silver made him Team England's most decorated athlete at a single Commonwealth Games.
His success was part of an incredible 25-medal haul in the Sandwell Aquatics Centre for British Swimming Performance Centre Bath athletes coached by David McNulty. Backstroke specialist Brodie Williams won two gold and a silver, his first senior international medals, and James Guy secured a super six podium placings. Freya Anderson, Luke Turley, Ed Mildred and Jacob Peters also won medals for Team England, as did alumna Anna Hopkin, while there was a golden double for University of Bath Swimming Club's Ben Proud in the 50m freestyle and 50m butterfly.
Away from the pool, there was a first-ever athletics medal for Guernsey from Sports Performance alumnus Alastair Chalmers in the 400m hurdles, plus two brilliant judo medals for Team Bath's Rhys Thompson and Sports & Exercise Science alumna Gemma Howell.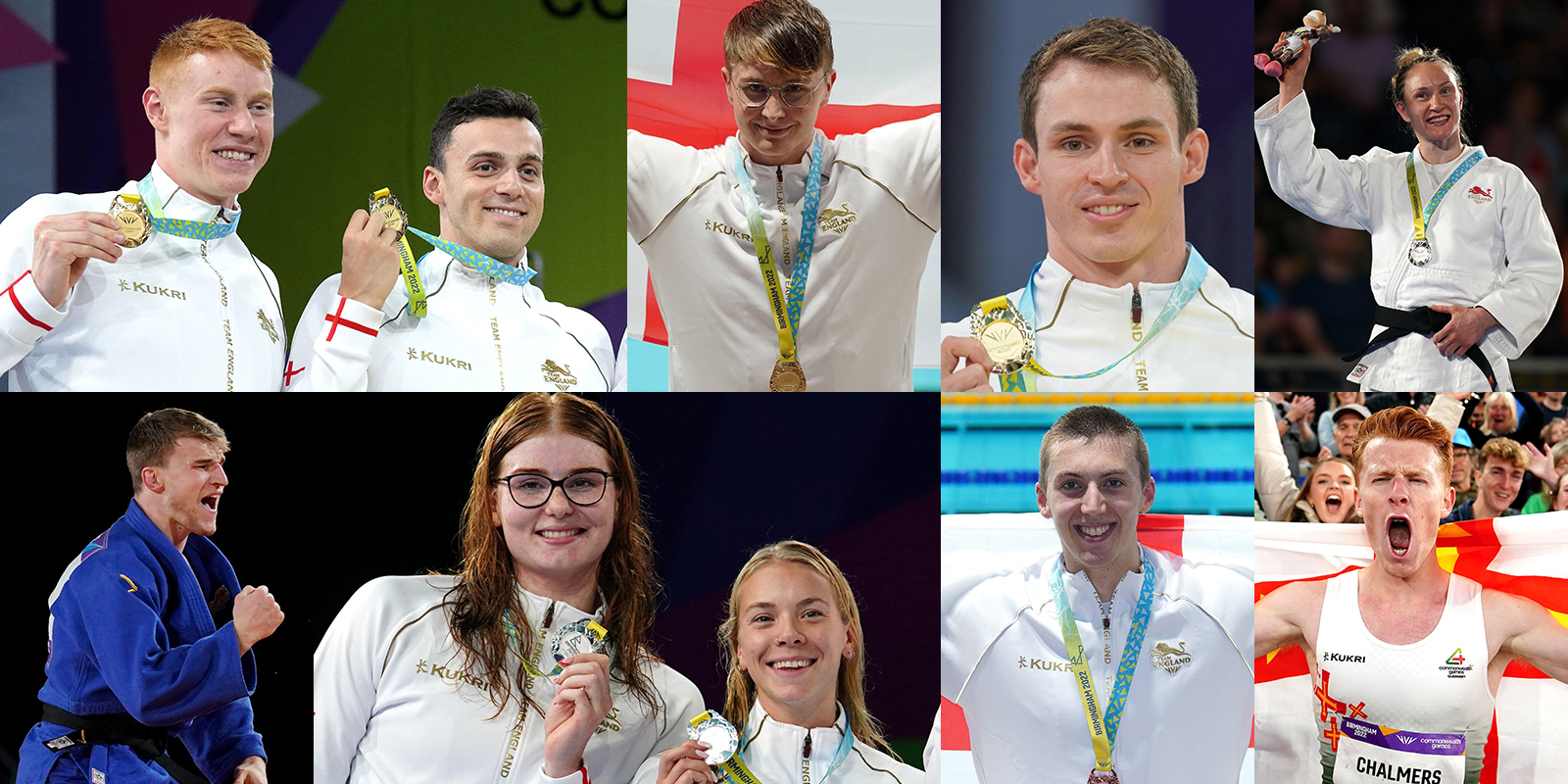 Pictures: PA Images / Alamy Stock Photo
In total there were 37 sportspeople who train, study or studied at the University of Bath who competed at Birmingham 2022, across nine different sports – athletics, badminton, cycling, hockey, judo, netball, rugby 7s, swimming and triathlon – and representing seven different countries or territories – England, Wales, Cyprus, Gibraltar, Guernsey, Isle of Man and South Africa. Click here to see a full list of selected athletes.
Among them was Team Bath Netball star Layla Guscoth, who had the honour of sending the Queen's Baton Relay on its way around the world from her home city of Birmingham in October 2021. The Baton visited the city of Bath on 5th July 2022 with the baton bearers including Pentathlon GB's Olympic gold-medallist Kate French, University of Bath Hall of Fame for Sport inductee Stephanie Millward and former Team Bath Netball player/coach Lois Jackson.
Roll of honour
| | | |
| --- | --- | --- |
| GOLD (7) | SILVER (17) | BRONZE (9) |
| TOM DEAN (swimming, England) – men's 4x100m medley relay | FREYA ANDERSON (swimming, England) – mixed 4x100m freestyle relay; women's 4x100m freestyle relay | FREYA ANDERSON (swimming, England) – women's 4x200m freestyle relay; mixed 4x100m medley relay |
| JAMES GUY (swimming, England) – men's 4x100m medley relay | TOM DEAN (swimming, England) – 100m freestyle; 200m freestyle; 200m individual medley; mixed 4x100m freestyle relay; men's 4x100m freestyle relay; men's 4x200m freestyle relay | JAMES GUY (swimming, England) – 200m butterfly; mixed 4x100m medley relay |
| JACOB PETERS (swimming, England) – men's 4x100m medley relay** | JAMES GUY (swimming, England) – 100m butterfly; men's 4x100m freestyle relay; men's 4x200m freestyle relay | ED MILDRED (swimming, England) – mixed 4x100m medley relay** |
| BEN PROUD (swimming, England) – 50m butterfly, 50m freestyle | ED MILDRED (swimming, England) – mixed 4x100m freestyle relay**; men's 4x100m freestyle relay** | LUKE TURLEY (swimming, England) – 1500m freestyle |
| BRODIE WILLIAMS (swimming, England) – 200m backstroke, men's 4x100m medley relay | BRODIE WILLIAMS (swimming, England) – 100m backstroke | ANNA HOPKIN* (swimming, England) – women's 4x100m medley relay |
| | ANNA HOPKIN* (swimming, England) – mixed 4x100m freestyle relay; women's 4x100m freestyle relay | RHYS THOMPSON (judo, England) – men's -100kg |
| | GEMMA HOWELL* (judo, England) – women's -63kg | ALASTAIR CHALMERS* (athletics, Guernsey) – men's 400m hurdles |
* University of Bath alumni ** Competed in heats 
Daily competition round-ups
Commonwealth Games previews