A trio of University of Bath students past and present will be proudly representing Guernsey on the athletics track at the newly-refurbished Alexander Stadium during the Birmingham 2022 Commonwealth Games.
The Chalmers brothers, Alastair and Cameron, will be competing in the 400m hurdles and 400m respectively. Both studied Sports Performance at Bath and are full GB internationals, with Alastair a semi-finalist at last week's IAAF World Championships in Oregon and Cameron competing at the Tokyo 2020 Olympic Games.
All set for her first appearance at a major senior championships is Economics student Abi Galpin, who is supported by the Team Bath Dual Career programme and will race in the 200m.
"It's very exciting," said Galpin, who is coached by Tom Druce and University of Bath Head Athletics Coach Colin Bovell. "I've run PBs in both the 100m and 200m this season so I'm definitely in the form of my life and I'd like to make the semi-finals at least in Birmingham.
"I started athletics when I was in Year 5 at school but I wasn't one of those kids who was really good compared to everyone else. I've been lucky enough to have a coach who really supports me and is always looking to teach me new things, and I've been able to find improvement year on year.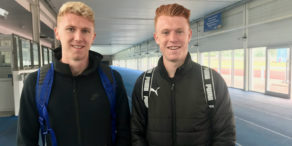 "I think it was when I was 16 that I said 'I want to go to the Commonwealth Games with Guernsey' but I wasn't anywhere near good enough at that point. Fortunately I've been able to keep improving and now I'm going!"
Galpin has been preparing for the Games back home in Guernsey where she has spent the past academic year on a placement at Skipton International bank, although she has missed the Team Bath Sports Training Village.
"I haven't had access to an indoor track like we do in Bath, which is a big thing during the winter months!" she said. "The quality of the training group in Bath is also a massive benefit. I have to run against men quite a lot back home as there isn't that level in the women's team but at uni I have girls running alongside me and pushing me on, which is just what I want."
Galpin is confident it will be a Games to remember for the Guernsey squad, saying: "It's probably the strongest athletics team we've ever sent. Ala and Cam are both GB athletes and Ala wants to medal. He's got a really good chance and it's been a while since Guernsey won a medal, so that would be amazing."
Also competing in Birmingham is Sports & Social Sciences graduate Jenny Nesbitt, who will represent Wales at a second successive Commonwealth Games when she lines up in the 5,000m.