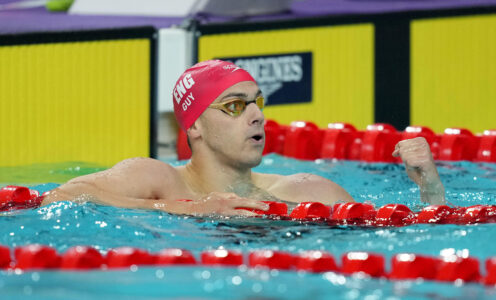 James Guy won the 12th medal of his Commonwealth Games career and Freya Anderson secured her third podium place in as many days as University of Bath-based swimmers continued their excellent form at Birmingham 2022 on Sunday.
British Swimming Performance Centre Bath star Guy produced a brilliant swim from the outside lane to win bronze in the 200m butterfly at Sandwell Aquatics Centre.
The last race of the evening saw Anderson, also coached by David McNulty at the Team Bath Sports Training Village, anchor the Team England women's 4x200m freestyle relay quartet to third place.
It took the medal count to 10 for Bath-based swimmers so far at the Games and University of Bath sporting scholar Tom Dean will be among those looking to add to that tally on Monday evening after setting a big personal best to qualify second-fastest for the 100m freestyle final.
Sunday's action also saw University of Bath Dual Career student-athlete Grace Crompton score two tries to help England's women finish fifth overall in the rugby 7s, while Team Bath Netball Superleague duo Betsy Creak and Phumza Maweni helped Wales and South Africa respectively to victory.
Stay up-to-date with all the results involving University of Bath-associated athletes at the Commonwealth Games by visiting teambath.com/Birmingham-2022.
Swimming
James Guy was seventh-fastest in the morning's 200m butterfly qualifiers but found the speed when it mattered in the first final of the evening, going almost one-and-a-half seconds faster as he took bronze from the outside lane in 1:56.77. Sports Performance alumnus Jay Lelliott was seventh in his first senior international final in 1:58.13.
"To get on the podium in the outside lane, it's always good fun," said Guy, who is competing at his third Commonwealth Games and won silver for Team England in the men's 4x100m freestyle on Saturday.
"This morning and last night I wasn't feeling that good in the water. I knew it was going to be hard racing again after the World Championships a few weeks ago but what I've realised here is that the times aren't that fast, it's how you race it."
There was another bronze in the last race of the evening for Guy's training partner Freya Anderson, who anchored a women's 4x200m freestyle quartet also featuring Freya Colbert, Tamryn van Selm and Abbie Wood to third place in a final won in world record time by Australia.
Anderson, who won silver in both the mixed and women's 4x100m freestyle relays, said: "I saw South Africa were biting at our feet a bit so I knew I had to get my head down, stay calm and get my hand on the wall."
Sport & Exercise Science alumna Anna Hopkin was fifth in the women's 50m freestyle final and Bill Whiteley Sporting Scholar Tom Dean went below 48 seconds for the first time in the 100m freestyle as he qualified second-fastest for Monday's final in a personal best of 47.83.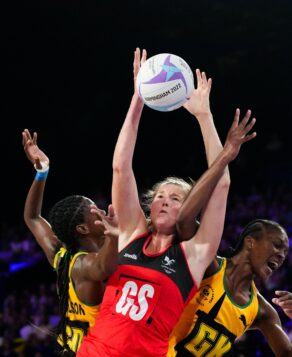 Sunday morning's heats saw Civil and Architectural Engineering student Johnpaul Balloqui, coached by Mark Skimming in the University's student swimming club, achieve his pre-Games target by setting a new national record of 2:10.50 in the 200m butterfly.
Rugby 7s
University of Bath Sports Management and Coaching student Grace Crompton scored two second-half tries to help England beat Scotland 29-5 at Coventry Stadium to secure fifth place overall in the women's rugby 7s competition.
Crompton – supported by the Team Bath Dual Career programme – was joined in the England squad by Integrated Mechanical & Electrical Engineering alumna Amy Wilson Hardy.
Netball
Team Bath attacker Betsy Creak scored 12 goals as Wales recorded their first win at Birmingham 2022, beating Scotland 48-42 at the NEC on Sunday evening.
Fellow Blue & Gold Superleague star Phumza Maweni had earlier helped South Africa bounce back from Saturday's defeat to Jamaica by recording the biggest win of the Games to date, a 91-36 victory over Barbados.