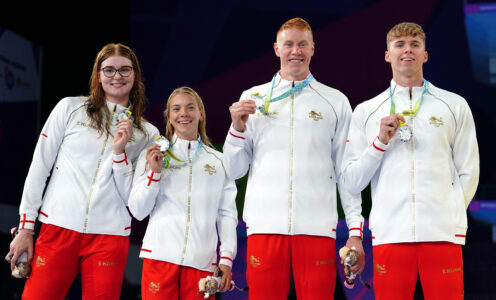 Swimmers Tom Dean, Freya Anderson and Ed Mildred became the first University of Bath-based athletes to win medals at Birmingham 2022 as they helped Team England to mixed 4x100m freestyle relay silver on the opening day of the Commonwealth Games.
Dean and Anderson, of the British Swimming Performance Centre based at the Team Bath Sports Training Village, teamed up with fellow Olympic Champion Anna Hopkin – a University of Bath alumna – and Lewis Burras to finish runners-up to Australia in the final race of a busy evening at Sandwell Aquatics Centre.
Mildred, also coached by David McNulty in Bath, received a medal too after his impressive swim in the morning's heats to help Team England secure their final berth.
Anderson, who had finished fourth in the 200m freestyle final earlier in the evening, praised the support from the home fans, saying: "The crowd was amazing tonight and I felt really proud. I loved the noise and loved having that bit of pressure."
Dean added: "The reception was incredible. We're walking away with a silver medal, which is obviously a great achievement, but it sounds like we've just broken a world record and won a gold medal. It's really special to be part of that.
"The whole energy around this is bigger than any other competition we've been a part of. Everyone's calling it the biggest thing since London 2012. It's getting the coverage we want, there are eyes on swimming, eyes on the English stars and that's only going to do great things for the sport.
"That's a responsibility that I'm grateful to have and I'm fortunate to be in a position where I can carry that into my swims and try to lead by example. This is as good as it gets for the sport of swimming. We only get one of these in our career so what an exciting thing to be a part of."
Hopkin said: "The roar when we walked out was like nothing I've ever experienced before."
There are more medal hopes on Saturday as Bill Whiteley Sporting Scholar Dean bids to add 200m freestyle Commonwealth gold to the Olympic title he famously won 12 months ago in Tokyo. Training partners Holly Hibbott, Jacob Peters and Brodie Williams will also be racing in finals on Saturday evening, as will University of Bath Swimming Club's Ben Proud.
Friday also saw Team Bath Netball Superleague players Imogen Allison, Sophie Drakeford-Lewis, Layla Guscoth and Betsy Creak all make their Commonwealth Games debuts, while student-athlete Grace Crompton grabbed two tries as England's women won one and lost one in the rugby 7s.
Visit teambath.com/Birmingham-2022 to stay up-to-date with how University of Bath-based athletes are faring at the Commonwealth Games.
A fantastic first evening in the Sandwell Aquatics Centre ended in thrilling fashion as England pushed Australia all the way in the mixed 4x100m freestyle relay final.
A brilliant first leg from Lewis Burras gave Tom Dean a lead which he held onto for much of the second leg before Rio 2016 Olympic Champion Kyle Chalmers narrowly overhauled him just before the handover.
Sport & Exercise Science graduate Anna Hopkin went out fast to regain the lead but Mollie O'Callaghan got Australia's noses ahead again going into the anchor leg. Freya Anderson kept the pressure on with an excellent swim but Australia were able to hold on for the gold.
Anderson had narrowly missed out on a medal in the 200m freestyle final earlier in the evening. Her time of 1:56.63 was a one-second improvement on her heat swim but not quite enough to prevent an Australian clean sweep of the medals.
The first swimming final of Birmingham 2022 had seen Sports Performance graduate Luke Turley, now part of the Performance Centre Bath squad, set a new personal best of 3:48.50 as he finished a fine fifth in the 400m freestyle on his Commonwealth Games debut.
Booking their place in finals on Saturday evening were Performance Centre Bath duo Brodie Williams, who was second-fastest overall in the 100m backstroke semi-finals in 54.00, and Jacob Peters, who clocked 23.51 in the 50m butterfly. He finished runner-up to Ben Proud of the University of Bath Swimming Club, who was fastest qualifier in 23.06.
Holly Hibbott also progressed to the 100m butterfly final after placing fifth in a quick semi-final in 58.97.
The morning's heats had seen Civil and Architectural Engineering student Johnpaul Balloqui, coached by Mark Skimming in the University's student swimming club, set a new 50m butterfly personal best of 26.51. He is making his Commonwealth Games debut for Gibraltar.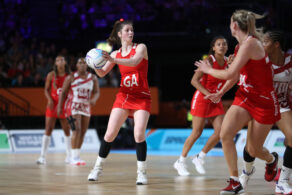 University of Bath alumna Sophie Drakeford-Lewis said it felt "absolutely surreal" to have made her Commonwealth Games debut as England's title defence got off to a fine start with a 74-22 victory over Trinidad & Tobago.
Drakeford-Lewis, who studied Integrated Mechanical & Electrical Engineering, was one of three Team Bath Netball Superleague players making their first Commonwealth appearances along with Layla Guscoth and Sports & Exercise Science graduate Imogen Allison.
"It was absolutely surreal," said Drakeford-Lewis, who came on in the third quarter. "When we walked in, I just got goosebumps at the crowd all here to support us, which is absolutely amazing. To get out on court in the second half was so good, just to settle the nerves and build our confidence going into the next few games."
University of Bath Hall of Fame for Sport inductee Stacey Francis-Bayman also came on at her third Commonwealth Games for England, who continue their campaign at 2pm on Saturday against Malawi.
The evening's matches saw Blue & Gold star Betsy Creak make her Commonwealth Games bow for Wales as they put up a good fight against Jamaica before going down 72-43.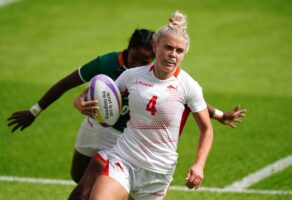 The first University of Bath-associated athletes to compete at Birmingham 2022 were Sports Management and Coaching student Grace Crompton and alumna Amy Wilson Hardy, who both got on the scoresheet as England beat Sri Lanka 57-0 in their opening group game on Friday morning.
Dual Career student-athlete Crompton also touched down in England's second match of the day but it was Canada who came out on top 26-19, meaning England will have to beat New Zealand on Saturday morning to progress to the medal matches.
Isle of Man's Niall Caley, who studied Economics and Mathematics at the University of Bath, clocked 54:00 exactly to finish 20th in the men's triathlon at Sutton Park. Alex Yee won Team England's first gold of the Games.