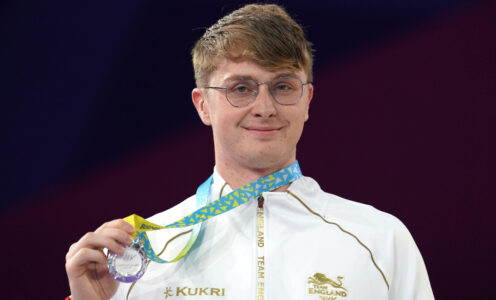 Six medals were won by swimmers from the University of Bath – one gold and five silver – on a super Saturday night in the pool on day two of the Birmingham 2022 Commonwealth Games.
Ben Proud of the University's swimming club reclaimed the 50m butterfly title he had won at Glasgow 2014 and sporting scholar Tom Dean took silver in his latest epic 200m freestyle battle with Scotland's Duncan Scott.
Dean grabbed a second silver of the evening, and a third of the Games so far, as he and fellow Olympic Champion James Guy helped England finish runners-up to Australia in the men's 4x100m freestyle final.
British Swimming Performance Centre Bath swimmer Freya Anderson and Bath alumna Anna Hopkin did likewise in the women's relay and there was a first-ever international medal for Brodie Williams (pictured top), who set a lifetime best on his way to 100m backstroke silver.
Team Bath's Imogen Allison, Sophie Drakeford-Lewis and Layla Guscoth helped England's netballers to a second win in as many days, this time against Malawi.
Stay up-to-date with all the results involving University of Bath-associated athletes at the Commonwealth Games by visiting teambath.com/Birmingham-2022.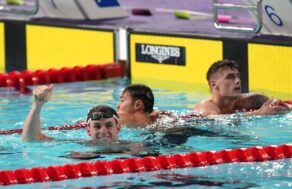 Swimming
The evening session at Sandwell Aquatics Centre got off to an explosive start as Ben Proud roared to the second 50m butterfly Commonwealth title of his career in a new Games record of 22.81. British Swimming Performance Centre Bath swimmer Jacob Peters also produced a brilliant swim to place fifth in a big personal best of 23.29.
Proud, who is a member of the University of Bath Swimming Club and trained with Mark Skimming at Team Bath until earlier this summer, was disqualified in the heats four years ago but was determined to regain his Commonwealth crown.
"Eight years ago I won gold in this competition and four years ago I felt like it was taken away from me," he told the BBC. "I said to myself to be here four years later and that has just happened. Thanks to all who have helped me on my journey, this is something very special."
There was another thrilling final just over half-hour later as Bill Whiteley Sporting Scholar Tom Dean and Duncan Scott renewed their rivalry in the 200m freestyle.
Dean famously won gold at the Tokyo 2020 Olympic Games 12 months ago but it was Scotland's Scott who had the edge on this occasion.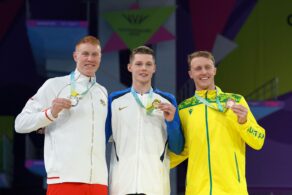 "It was always going to be a hell of a race," said Dean, who took silver in 1:45.41. "We were one and two in the world last year, we're one and two at the Commies today. We're in a prime age for 200m freestyle in Britain and it is an honour to be part of such a dominant era. These are the things you pinch yourself about."
Just a couple of hours later, Dean was back in the pool to swim an incredible split of 46.70 on the anchor leg for Team England in the men's 4x100m freestyle relay. It wasn't quite enough to overhaul Australia, who won in a new Games record, but it did secure a third silver of the Games for Dean and a first for training partner James Guy, who swam the third leg. Ed Mildred also receives a medal after swimming in the heats.
Calum Jarvis, who had finished seventh in the 200m freestyle final earlier in the evening, helped Wales place fourth in the relay.
Winning his first-ever international medal was Brodie Williams, who dropped out of the 400m individual medley heats this morning to focus on the 100m backstroke having been the second-fastest qualifier for tonight's final.
His decision was rewarded with an outstanding swim, with Williams leading for all but the last couple of strokes as he took silver behind South Africa's Pieter Coetze in a lifetime best of 53.91.
"I can't believe it, I didn't come into the Games thinking the 100m backstroke was a viable option," said Williams. "I am more of a 400m IM-er but I have to take my chances. It was a tight finish but I'm happy with the PB and my first senior medal. Training with David McNulty this year has really made a change. I owe a lot to him – he should get knighted!"
The penultimate race of a memorable evening saw Sport & Exercise Science alumna Anna Hopkin and Performance Centre Bath swimmer Freya Anderson swim the first and last legs as England's women won silver in their 4x100m freestyle relay – their second relay medals of the Games.
Hopkin had earlier set the fourth-fastest qualification time of 24.66 for tomorrow's 50m freestyle final, while Performance Centre Bath swimmer Holly Hibbott was seventh in the 100m butterfly final in 59.28.
Netball
There was another start for Layla Guscoth and more game-time for fellow Team Bath Netball Superleague players Imogen Allison and Sophie Drakeford-Lewis as England made it two wins from two with a 66-41 victory over Malawi at the NEC.
However, it was a disappointing start to the Commonwealth Games for fellow Blue & Gold star Phumza Maweni and her South Africa team-mates as they suffered a 68-49 defeat to Jamaica.
Rugby 7s
An England women's squad featuring Grace Crompton and Amy Wilson Hardy, University of Bath students present and past, missed out on the medal matches as they were beaten 38-7 by defending champions New Zealand in their final Pool A match this morning.
They bounced back strongly in the afternoon's Placing 5-8 semi-final, Wilson Hardy among the try scorers in a 36-0 win over South Africa, and England will now play Scotland in the fifth-placed play-off on Sunday (6.22pm).