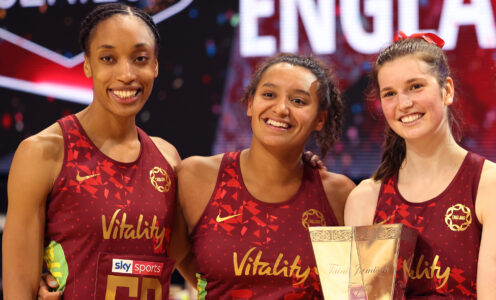 Four years after England won Commonwealth netball gold for the first time, Team Bath players past and present are excited at the prospect of making their own history with the Vitality Roses at Birmingham 2022.
England will have the unique experience of being defending champions at a major international tournament as well as the expectation that comes with being the host nation.
However, there are several players in the squad who will be stepping onto the Commonwealth Games stage for the first time including Blue & Gold stars Imogen Allison, Sophie Drakeford-Lewis and Layla Guscoth.
"We just want to make our own history," said goal-attack Drakeford-Lewis, an Integrated Mechanical and Electrical Engineering graduate of the University of Bath. "Some of the girls were part of the Gold Coast squad four years ago and it's amazing that we can call on their experience of winning a gold medal but we just want to show what this group is capable of. We will give it everything and if we come out with a gold that will be amazing.
"It was always a dream of mine to play for England at a major championships. Commonwealth Games is the pinnacle of our sport. It still feels surreal, I don't think it will really sink in until the event starts."
Goal-defence Guscoth, voted Superleague Player of the Year in 2022 after an outstanding season for Team Bath, was part of the England squad that won bronze at the 2019 Netball World Cup in Liverpool but believes this experience will be even bigger – particularly as it comes in her home city.
"It's nice to be part of a multi-sport event," she said. "Because of the wider Team England vibe and everything that surrounds Comm Games it feels almost bigger than netball, which is exciting. For it to be in Birmingham is pretty cool as well, my parents are very excited. To play a major tournament in the city I grew up in is something I never thought I would have chance to do.
"We'll be going into the competition wanting to win and we obviously have the belief that we can get a gold medal but I think there will be five other teams saying the same thing. We are ranked third in the world. Australia have been first for a ridiculously long time, New Zealand are just above us and we had a really competitive series with Jamaica at the end of last year, so we are under no illusion that it will be really challenging. We'll just do our best and hope that it's a good outcome."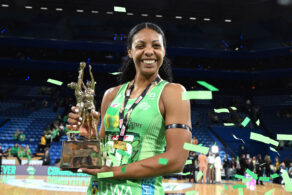 Another proud Brummie ready to compete at the ultimate home Games is Team Bath Netball legend and University of Bath Hall of Fame for Sport inductee Stacey Francis-Bayman, for whom the competition takes on extra significance as it will be her last netball before retiring.
The five-time Blue & Gold Superleague champion announced her decision after winning a first Suncorp Super Netball title in Australia with West Coast Fever earlier this month.
"I've had an incredible year and, knowing it was going to be last before retirement, I've been able to savour every moment," said Francis-Bayman, who won bronze with England at the Delhi 2010 Games. "It's been an absolute whirlwind and my emotions are all over the place. I don't think it will sink in until it's all over.
"I wasn't part of the England team that won gold four years ago so it's incredibly exciting to have the prospect of being part of more Roses history. It would be an absolute fairytale to go out with an SSN Premiership and a Commonwealth Games gold medal in my hometown, in the same year."
England – led by former Blue & Gold player and coach Jess Thirlby – begin their Commonwealth Games campaign at midday on Friday against Trinidad & Tobago at the NEC. Also in the squad are past Team Bath stars Geva Mentor and Eboni Usoro-Brown, both of whom won gold four years ago.
Wales shooter Betsy Creak and South Africa defender Phumza Maweni, both part of Team Bath's 2022 Superleague squad that won bronze, will also be representing their countries at Birmingham 2022 – their nations meet in a Group A match on Wednesday 3rd August.
Former Team Bath stars gracing the courts at the NEC include Fi Toner (Northern Ireland); Claire Maxwell (Scotland); and Khanyisa Chawane and Zanele Vimbela (South Africa). Tamsin Greenway is Scotland's Head Coach and will be assisted by Sara Francis-Bayman.
Visit netball.teambath.com to find out more about Team Bath Netball and teambath.com/Birmingham-2022 for a guide to when the netballers and other University of Bath-based athletes will be in action at the Commonwealth Games.
Top picture: (From left) Layla Guscoth, Imogen Allison and Sophie Drakeford-Lewis. CREDIT: Peter Meecham/Getty Images