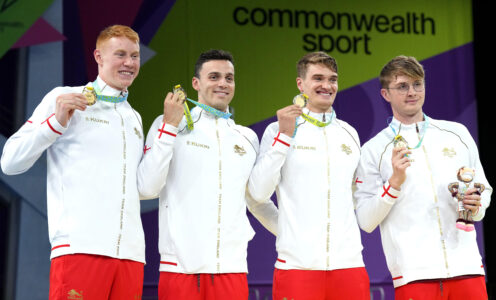 Swimmers from the University of Bath finished the Birmingham 2022 Commonwealth Games with an incredible 27 medals between them after securing more gold, silver and bronze on an electric last evening of racing in Sandwell Aquatics Centre.
Sporting scholar Tom Dean became Team England's most decorated swimmer at a single Games as he won his sixth silver in the 200m individual medley before anchoring a quartet also featuring British Swimming Performance Centre Bath team-mates Brodie Williams and James Guy to a sensational gold in the men's 4x100m medley relay.
It was a sixth medal for Guy – and 12th of his career – and third of the week for 200m backstroke champion Williams, while training partner Jacob Peters also received a medal after playing a key role in the heats.
"It's been a tough week and after six silvers, to finally get the big G at the end means the world," said Dean. "A big shout-out to our coach Dave McNulty, that's 25 Commonwealth medals for his swimmers at these Games and what an honour to do it for him."
University of Bath Swimming Club's Ben Proud scorched to his second sprint gold of the week, adding the 50m freestyle title to the 50m butterfly crown he reclaimed on Saturday, and Sports Performance graduate Luke Turley – now with the Bath Performance Centre squad – won a brilliant bronze in the 1,500m freestyle at his first senior international.
There was more medal success in the Coventry Arena as Team Bath Judo's Rhys Thompson won bronze in the men's -100kg weight category.
Stay up-to-date with all the results involving University of Bath-associated athletes at the Commonwealth Games by visiting teambath.com/Birmingham-2022.
After finishing runner-up in his six previous events this week, Tom Dean finally got his hands on Commonwealth Games gold – along with British Swimming Performance Centre Bath training partners Brodie Williams and James Guy – in a sensational men's 4x100m medley relay final.
Williams, fresh from winning his first senior international title on Tuesday, got England off to a flying start in the backstroke leg as he handed over with a slight lead to James Wilby for the breaststroke.
Strong swims from Wilby and Guy, on the butterfly leg, gave Dean a half-second lead going into the freestyle leg but Australian Kyle Chalmers – who had pipped the Bath sporting scholar to gold in the individual 100m – managed to draw level with 20m remaining.
Dean was determined to finish on a high, though, and dug deep to hold his rival at bay, touching the wall first by eight-hundredths of a second to huge cheers from the home crowd.
"I think I showed how much the gold meant to me at the end, it was pure emotion coming out," Dean said. "It's the first time we've done the medley relay in this combination and it's so special, all the boys executed the perfect race plan and what an honour to do it front of this crowd."
Guy said: "I always believe that when you swim in a relay you are swimming for your whole country. Tonight was a real dogfight between us and the Australians but it was about swimming a smart race, getting the tactics right and it worked."
Williams added: "I knew I had a task leading off for these boys but I'm glad I could do the job well and I'm happy to come away with the gold."
The first final of the evening had seen Dean, coached by David McNulty at the Team Bath Sports Training Village, narrowly miss out to friend and rival Duncan Scott once again in a high-quality 200m individual medley final.
Dean found himself a couple of seconds behind after the butterfly and backstroke but produced comfortably the fastest breaststroke leg to cut the gap to 0.79 going into the freestyle.
He continued to hunt down Scott during a storming last 50m but wasn't quite able to catch him, touching the wall 0.13 behind in 1:57.01 as the front three – including New Zealand's Lewis Clareburt – all went inside the previous Games record.
"What a great week," said Dean, who is supported by a Bill Whiteley Sporting Scholarship. "It's been head to head on so many races, it's been class. Duncan got the better of me on this one again tonight but we push each other on and that's what it's all about."
The most explosive final of the evening saw Ben Proud, who is a member of the University of Bath Swimming Club and trained with Mark Skimming at Team Bath until earlier this summer, win 50m freestyle gold for a third successive Games.
The in-form sprinter, who is reigning World Champion in the event in both long-course and short-course, finished three-tenths clear of the field as he touched the wall in a rapid time of 21.36 to follow up his 50m butterfly gold from the weekend.
"For me that's a really big achievement, to be consistently at the top for eight years," Proud said. "I'm really happy I've done it, let's see what happens next."
Sports Performance graduate Luke Turley, who was also coached by Skimming in the student club before moving across to the Performance Centre Bath squad, joined in the medal rush as he won bronze in the 1,500m freestyle final.
Turley, who was supported by a Santander Sports Scholarship, was involved in a tussle for third place throughout with fellow Team England swimmer Toby Robinson. He edged ahead at the 900m mark and maintained his lead to finish a couple of seconds ahead of his compatriot in 15:12.78 – a fantastic finish to his first senior international meet.
The last medal of the week went to Team England in the women's 4x100m medley relay, the quartet being anchored to bronze by Sports & Exercise Science alumna Anna Hopkin for her third medal of the Games.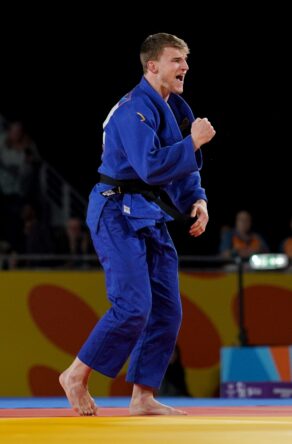 Team Bath judoka Rhys Thompson admitted he was "overcome with emotions" after winning a brilliant bronze for Team England in the men's -100kg weight category at Coventry Arena.
The British Champion made a great start to the -100kg competition, defeating Malta's Isaac Bezzina by Waza-ari and Australia's Kayhan Ozcicek-Takagi to reach the semi-finals.
Former World Junior Champion Kyle Reyes proved too strong, the Canadian winning by Ippon, but Thompson went on to win his bronze-medal match against Fiji's Tevita Takayawa in less than two minutes.
"I think relief was the main emotion when it ended," said Thompson. "I knew Tevita was good, I've fought him a couple of times before and I know he can throw so I was a bit wary, but I also knew I could beat him.
"When you've got the home crowd, your friends and family here, there was a lot of relief – I let out a big roar which isn't normal for me, but I was overcome with emotions."
Two Team Bath Netball Superleague players went head-to-head at the NEC as Phumza Maweni's South Africa beat Betsy Creak's Wales 69-51 in Group A.
Both sides play their final round-robin matches on Thursday, Wales facing Barbados at 11am and South Africa taking on Scotland at 7pm, before England meet World Champions New Zealand at 9pm in a match that decides who tops Group A – both teams are already guaranteed a semi-final place.
There was disappointment for Sports Performance graduate Cameron Chalmers, representing Guernsey, as he finished fourth in his 400m heat to miss out on a place in the semi-finals. However, he admitted he was just grateful to be on the start line after a season hampered by injuries and illness.
Compatriot Abi Galpin, who studies Economics at the University and is supported by the Team Bath Dual Career programme, makes her Commonwealth Games debut on Thursday morning in the 200m.
University of Bath alumnus Lewis Prosser captained Wales to a 6-1 win over Ghana which set up a decisive Pool B match against India on Thursday, with the victors progressing to the semi-finals.