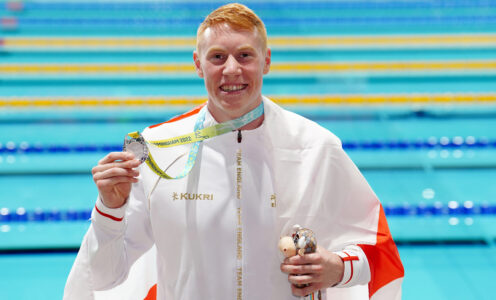 Tom Dean won his fourth and fifth silver medals of the Commonwealth Games and was once again joined on the podium by James Guy on another good night for University of Bath-based swimmers at Birmingham 2022.
Dean, supported by a Bill Whiteley Sporting Scholarship, produced an excellent swim to finish runner-up to former Olympic Champion Kyle Chalmers of Australia in the 100m freestyle final at the start of the evening.
He was back in the Sandwell Aquatic Centre pool for the last race of the night, winning silver for Team England in the men's 4x200m freestyle relay alongside fellow British Swimming Performance Bath swimmer and double Olympic Champion Guy.
Training partners Kieran Bird and Sports Performance graduate Calum Jarvis – who says he is retiring after the Games – were in the Wales quartet that narrowly missed out on the podium in fourth.
Team Bath Netball trio Sophie Drakeford-Lewis, Imogen Allison and Layla Guscoth also helped England record their third win of the netball competition, beating Northern Ireland 71-27.
Stay up-to-date with all the results involving University of Bath-associated athletes at the Commonwealth Games by visiting teambath.com/Birmingham-2022.
After going under 48 seconds for the first time in Sunday's semi-finals, Tom Dean went into the 100m freestyle final with high hopes of earning a fourth podium place of the week.
Kyle Chalmers was the favourite, having set a new Games record in qualifying, and lived up to that billing as he led from start to finish. However, Dean – coached by David McNulty at the Team Bath Sports Training Village – produced another excellent swim and was closing in on him in the home stretch as he touched the wall in 47.89, just six-hundredths outside his personal best from yesterday. Duncan Scott, who had beaten Dean to gold in the 200m freestyle, took third place.
"I'm really happy with that," said Dean, who has also won silver in the men's and mixed 4x100m freestyle relays. "Me, Kyle and Duncan on the podium – it's such a great result and it was so much fun. It's always incredible to swim in front of this crowd, I can't stop smiling!"
Dean had more cause to smile after the last race of the evening as he anchored England to another silver medal behind Australia in the men's 4x200m freestyle relay. Training partner James Guy swam a strong first leg for a quartet that also included Jacob Whittle and Joe Litchfield.
Sports Performance graduate Calum Jarvis, who won Olympic gold in the event with Dean and Guy last summer in Tokyo, swam a fantastic first leg to put Wales firmly in medal contention and it needed another outstanding swim from Scotland's Scott on the anchor leg to prevent Performance Centre Bath's Kieran Bird clinching bronze.
Civil and Architectural Engineering student Johnpaul Balloqui, coached by Mark Skimming in the University's swimming squad, received a huge ovation from the crowd as he brought the Gibraltar team home in eighth, a minute behind the medallists.
Relay silver was a third medal in as many nights for Guy, who earlier in the evening had booked his place in Tuesday's 100m butterfly final by finishing second in his heat in 51.82. Joining him is fellow Performance Centre Bath swimmer Jacob Peters who qualified seventh fastest in 52.23.
Freya Anderson and Sports & Exercise Science alumna Anna Hopkin also progressed through their 100m freestyle semi-finals, clocking 54.15 and 53.96 respectively.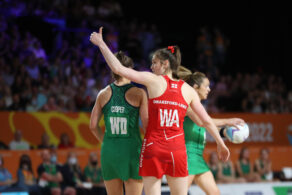 Integrated Mechanical & Electrical Engineering graduate Sophie Drakeford-Lewis made her first Commonwealth Games start as England continued a winning start to their title defence by beating Northern Ireland 71-27 in Group B.
Drakeford-Lewis played at wing-attack in the first quarter before moving to her more familiar position of goal-attack, where she converted 11 of her 12 shots.
Fellow Team Bath Netball player Imogen Allison played 45 minutes, as did Blue & Gold legend Stacey Francis-Bayman, while Layla Guscoth came on in the second half as England eased to their third win.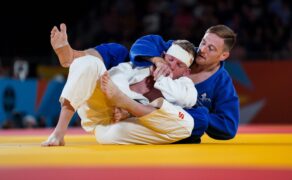 Phumza Maweni's South Africa side were beaten 74-49 by an impressive Australia side in Group A.
Team Bath Judo Development Manager Gregg Varey made his Commonwealth Games debut for Wales and got off to a winning start in the -66kg weight division, beating Ghana's Bismark Vartey in just over two minutes.
That set up a quarter-final clash with fellow GB judoka Alex Short, representing Scotland, and a well-contested bout went to golden score before Varey was defeated by ippon. He still had a medal shot through the repechage but Australia's Nathan Katz had the edge in another hard-fought contest.
Sports & Exercise Science graduate Gemma Howell begins her -63kg campaign for Team England on Tuesday morning.
Cycling
Sports Performance graduate Harvey McNaughton finished 13th overall when he represented Wales in the men's 1,000m time trial at the Lee Valley VeloPark, clocking 1:02.659.
Tom Dean picture credit: PA Images / Alamy Stock Photo