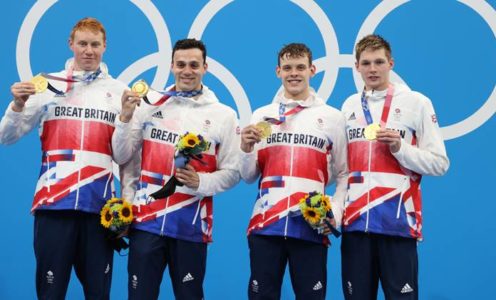 Four more Olympic gold medals are heading back to the University of Bath after another incredible morning of swimming for Team GB at Tokyo 2020.
Sporting scholar Tom Dean won his second gold in just over 24 hours as he and British Swimming National Centre Bath team-mates James Guy and Matt Richards teamed up with Duncan Scott to win the men's 4x200m freestyle relay title in sensational style.
Also bringing a gold medal back to the Team Bath Sports Training Village will be Sports Performance graduate Calum Jarvis, who played a crucial role in securing qualification in Tuesday's heats.
"I can't even put it into words," said Dean, who is coached by David McNulty. "I can't thank these boys enough from the bottom of my heart, it was unreal. I train with this man [James Guy] every single day and you can see how much this means to us. We couldn't have done it without Calum, thank you so much. It's a five-person relay."
An emotional Guy, finally an Olympic Champion after winning double silver at Rio 2016, added: "As a kid, winning an Olympic gold medal was my absolute dream and to do it after 25 years is pretty emotional.
"With these lads here, we're the best freestylers in the world – my teammate [Tom Dean] and Duncan Scott getting first and second, it's just amazing how things progress."
Eighteen-year-old Richards, who joined Jol Finck's training group at the University last summer, said: "When you're racing with guys like this, having a good leg comes easy.
"When they set me up as well as they did and then you know you've got one of the best freestylers in the world and one of the best freestylers ever going behind you, the privilege and confidence it gives and the experience it gives for someone my age, money can't buy that."
A well-deserved golden moment for @UniofBathAlumni @CalumJarvis who receives his 🥇 alongside his @teamgb men's 4x200m freestyle relay team-mates 🎉 https://t.co/GywgvgTwom

— Team Bath (@TeamBath) July 28, 2021
Mechanical Engineering student Dean, supported by a Bill Whitely Sporting Scholarship, led off the quartet just over 24 hours after he had won the individual 200m freestyle title.
Training partner Guy then produced a stunning second leg to give GB a lead at halfway which teenager Richards extended with an outstanding swim.
Individual silver-medallist Scott then brought the team home in style, their winning time of 6:58.58 just three-hundredths of a second outside the world record.
This morning's success means that University of Bath-based swimmers have now won 10 medals at the past three Olympic Games, adding to the silvers won by Michael Jamieson at London 2012 and Jazz Carlin (2), Siobhan-Marie O'Connor and Chris Walker-Hebborn at Rio 2016.
There are hopes for more medals over the coming days including the three medley relays, as well as former World Champion Ben Proud, who has been working with coach Mark Skimming at the University of Bath this year, in the men's 50m freestyle.
The impressive form continued in Wednesday's heats as University of Bath graduate Anna Hopkin, who reignited her swimming career as part of Skimming's student squad, smashed a British record that had stood for 12 years when she qualified third-fastest from the 100m freestyle heats in 52.75.
Freya Anderson will join her in Thursday's semi-finals after clocking 53.61 in her heat and fellow National Centre Bath swimmer Brodie Williams also progressed to the men's 200m backstroke semi-finals in 1:57.48.