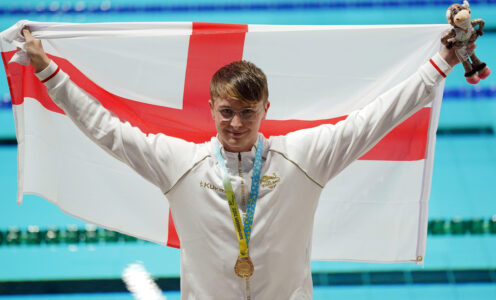 Swimmer Brodie Williams became the first University of Bath-based athlete to win gold at the Birmingham 2022 Commonwealth Games after another magnificent evening in the Sandwell Aquatic Centre.
Williams, coached by David McNulty at the Team Bath Sports Training Village, produced an outstanding performance to take the 200m backstroke title by one-hundredth of a second after a thrilling final.
"It means a lot," he said. "I won my first senior medal in the 100m but to get gold means so much to me and my family. It gives me a lot of confidence. I know I can perform on this stage now and I'll take that with me."
Training partner James Guy also added two more medals to his incredible career haul, finishing joint second in the 100m butterfly before teaming up with fellow Bath-based swimmer Freya Anderson to win bronze for Team England in the mixed 4x100m medley relay. Ed Mildred also received a medal following his fine swim in the morning's heats.
There was medal success for University of Bath alumna Gemma Howell too as she won judo silver for Team England, narrowly being denied the title by Olympic bronze-medallist Catherine Beauchemin-Pinard in a hard-fought -63kg final that went to golden score before the Canadian forced a submission.
Team Bath Netball Superleague trio Imogen Allison, Sophie Drakeford-Lewis and Layla Guscoth also helped England secure their place in this weekend's netball semi-finals with a 56-35 victory over Uganda.
Stay up-to-date with all the results involving University of Bath-associated athletes at the Commonwealth Games by visiting teambath.com/Birmingham-2022.
After winning his first senior international medal in the 100m backstroke on Saturday, Brodie Williams secured his second this evening in sensational style as he struck gold in the 200m backstroke.
The British Swimming Performance Centre Bath swimmer had finished fourth in the event at June's World Championships behind fellow Brit Luke Greenbank, who took silver, and they were at the front of the field during an absorbing race.
Greenbank held a narrow lead at the 150m mark but Williams produced a brilliant last turn and edged into the lead with 25m to go. Australia's Bradley Woodward was also making a charge but Williams managed to take the touch by one-hundredth of a second, claiming gold in 1:56.40. South Africa's Pieter Coetze completed the podium and University of Bath Sports Performance graduate Jay Lelliott was eighth in 2:01.64.
"I tried to work that last 50m and I was lucky to get the touch," said Williams. "It's a shame not to have Luke on the podium with me, he has set the standards for backstroke in Britain, but he'll be back."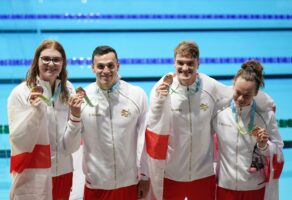 If it was close to a dead heat in that race, there was one in a pulsating 100m butterfly final as James Guy once again produced a big performance on the big stage to touch the wall joint second with Australia's Matthew Temple in 51.40, just 0.16secs behind Canada's Joshua Liendo Edwards.
"It was about enjoying the crowd, soaking it up and what a great race," said Guy. "I'm really happy with that – cheers!"
Jacob Peters, who trains alongside Guy at the Performance Centre Bath, went out fast in the first 50m and was just a tenth of a second off the lead at the midway point before finishing sixth in 52.16.
Guy was back in the pool for the last race of the night, swimming the butterfly leg for Team England in the mixed 4x100m medley relay. He handed over to training partner Freya Anderson in third place for the decisive freestyle leg and she swam superbly to secure bronze for the quartet, which also featured Lauren Cox and James Wilby – only being denied silver by five-hundredths of a second.
Anderson said: "We're a bit annoyed to be pipped by that much but the whole team did amazing. I knew I just had to get my head down. I didn't know where we'd come but to get a medal is amazing.
"I just wanted to do the crowd and my team-mates proud. This team has always done so well, it's definitely an accomplishment we should all be proud of."
Guy added: "Freya put in an absolutely champion back 50 even though she may be a bit gutted about it. We should be really proud of that."
Ed Mildred also received a medal after playing a key role in the morning's heats, his time of 51.58 on the anchor leg moving the England quartet from third to first.
Anderson had earlier finished fifth in the 100m freestyle final (54.00), just behind University of Bath alumna Anna Hopkin (53.57), while Holly Hibbott was sixth in the 200m butterfly final in 2:09.92.
Ben Proud stormed into Wednesday's 50m freestyle final, setting the fastest time of 21.63 as he looks to add to the 50m butterfly gold he won on Saturday.
The morning's heats had seen Sports Performance graduate Luke Turley, who now trains with the Performance Centre Bath squad, win his 1,500m freestyle heat in 15:35.65 to qualify for Wednesday's final.
University of Bath alumna Gemma Howell admitted she had mixed emotions after winning a hard-fought silver for Team England in the women's -63kg weight division at Coventry Arena.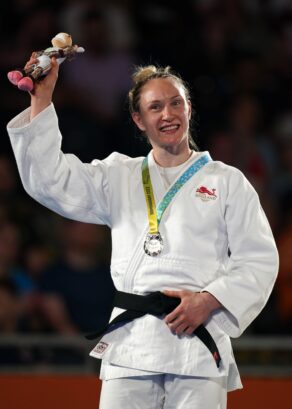 Double Olympian Howell, who trained with Team Bath Judo from 2012 to 2017 while studying Sports & Exercise Science, overcame Jasmine Hacker-Jones of Wales in the quarter-finals before defeating Australia's Katharina Haecker to secure her place in the gold-medal match.
Tokyo Olympic medallist Catherine Beauchemin-Pinard provided the opposition and there was very little between the two judoka as a closely-fought final went to golden score. Howell was the more aggressive fighter but, after nearly three minutes of additional time, was caught in an armlock and had to tap out.
Injuries prevented Howell competing when judo was last contested in the Commonwealth Games at Glasgow 2014 and have plagued her career but she won the European Championships in April and said she was proud of her achievements this year – although frustrated at just missing out on gold.
"If you had asked me about a silver at the start of the day I would have been over the moon but that final was so close," she told BBC Sport. "I could have had it and that makes it even more frustrating. Give me a few hours, though, and I'll be really happy about it."
Team Bath's Rhys Thompson competes in the men's -100kg division on Wednesday.
Defending champions England secured a semi-final spot as a 56-35 victory over Uganda guaranteed a top-two finish in Group B.
Layla Guscoth started and there were further impactful appearances from the bench by fellow Team Bath Netball Superleague stars Imogen Allison and Sophie Drakeford-Lewis as England set up a group decider against World Champions New Zealand on Thursday.
The first match of the day had seen Blue & Gold attacker Betsy Creak convert all 11 of her shots as Wales were beaten 79-33 by gold-medal contenders Australia.
The opening night of track and field action at the Alexander Stadium saw Sports Performance graduate Alastair Chalmers, hoping to win Guernsey's first-ever Commonwealth athletics medal, book his place in Saturday's 400m hurdles final by placing fourth in his heat in 50.39.
His brother Cameron, who also studied Sports Performance at the University, begins his 400m campaign around 12.20pm on Wednesday.