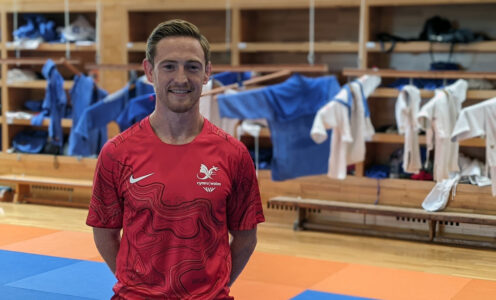 Four years after watching his wife represent Wales at the Commonwealth Games, Team Bath judoka Gregg Varey is ready to fulfil his own long-standing dream at Birmingham 2022.
Varey has been part of the high-performance judo programme at the University of Bath since first joining as a Sports Performance student back in 2006.
Now, after 16 years of dedicated work, he is finally set to make his debut at a major multi-sport event and emulate wife Amanda, a former Superleague champion with Team Bath Netball who competed for Wales at the Gold Coast 2018 Commonwealth Games.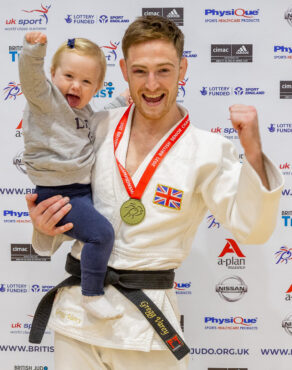 "I'm very happy," said Varey, who competes in the -66kg weight category on Monday 1st August. "It's my first Commonwealth Games and it will be my last too, so I'm just going to give it everything.
"I've been here for 16 years. I missed out on a lot as junior, cadet and senior because my body weight was so light for so long but that's part of why I've had such a long career. I turned 34 last month but I had my first European Championships earlier this year and now I have my first multi-sport Games coming up.
"Everything is happening later on in my career but I love this sport and it shows what happens when you persevere."
Varey first joined the Welsh programme back in 2010 and has seen his international career blossom since the appointment of Mark Earle as Head Coach.
"I fought in the Commonwealth Judo Championships for Wales in 2019 and the connection with Mark was really good straight away," said Varey. "That's when I really went for it. I've been travelling to Cardiff for training every week, alongside my training here in Bath, and I've built a really good rapport with all the coaches and support staff in the Welsh team.
"It's a lot of work but I have to give it my all, I can't leave this with any regrets."
One thing that Varey does regret with hindsight is not flying out to Australia four years ago to watch Amanda competing for Wales at the last Commonwealth Games but seeing her adventure from afar did fire up his own ambitions.
"I got up to watch every game live on TV and remember thinking 'I need to make sure I'm part of this at some point'," he said. "I have my opportunity now and it isn't as far for Amanda to travel to watch me.
"She's coming to watch with our two-year-old daughter but is also expecting our second child at the end of August, so hopefully the baby will wait until its due date! August is a very big month, a lot to look forward to."
It's also a big year for Varey, who has recently taken on a new role as Team Bath Judo Development Manager as he starts to transition into a post-competition career.
"I'm working as Assistant Coach to Adam Hall in the full-time programme and I'm also in charge of the DiSE [Diploma in Sporting Excellence] Programme for 16-18 year olds. It's a really good feeder programme for us, it gives them a chance to experience training full-time at Team Bath while gaining an education.
"I'm looking forward to passing on everything I have learned over my long career to the next generation."
Team Bath Head of Judo Adam Hall is also involved with the Commonwealth Games as he is part of the coaching team for an England squad that includes Team Bath judoka Rhys Thomson (-100kg) and Sport & Exercise Science alumna Gemma Howell (-63kg). They compete on Wednesday 3rd August and Tuesday 2nd August respectively.