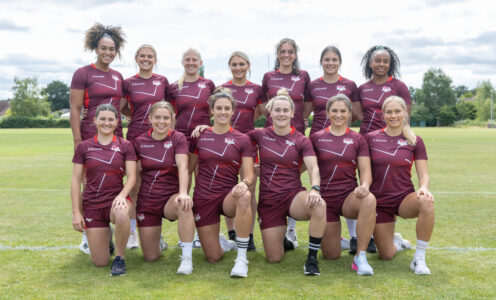 One is an Olympian and Commonwealth Games medallist, the other is less than a year into her international rugby career but Amy Wilson Hardy and Grace Crompton have more in common than just being England 7s team-mates for Birmingham 2022.
The University of Bath has been home to both, with Wilson Hardy graduating from Integrated Mechanical and Electrical Engineering in 2015 while Crompton is a current Team Bath Dual-Career student-athlete.
She has just completed the second year of a Sports Management and Coaching degree course at the University, which she has juggled alongside her burgeoning rugby career with Great Britain and England in 7s and Bristol Bears and England U20s in 15s.
Crompton only made her international 7s debut last September and admits: "If you'd told me 12 months ago I'd be going to the Commonwealth Games, I wouldn't have believed you.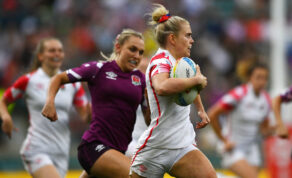 "I'm still quite new to rugby. I only started four years ago, through 7s, and I didn't really know the rules other than to run forward and pass back. I've learnt a bit more since then! I hoped that one day I might play at this level but didn't think it would be this early. I'm quite hard on myself at times so it's nice to occasionally take a step back and realise just how far this journey has taken me.
"People keep asking 'have you dropped out of uni?' because of my rugby career and I say 'no, it's still going strong'! I'm quite an organised person so it's just being on top of everything. If I know I have a training camp coming up, it's about putting stuff in place before so I'm not stressing.
"The coaches are really understanding and helpful if I am struggling. There have been occasions where I've had assignment due dates while on camp and the coaches have let me do my own thing. I do a lot of my studies online as well, so it's definitely manageable.
"I'm really enjoying the course, particularly the psychology and sociology aspects. Those are the bits I relate to most – modules like coaching and marketing are obviously really useful for life after rugby but right now I like studying the different sociologies in sport and feminism in particular. That's what I have chosen to focus on in my third year.
"I'm really happy with the course and to be doing it at Bath – it's not just a great university but a beautiful city and I've met some amazing people too."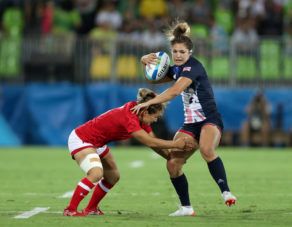 Someone who can empathise with Crompton is Wilson Hardy, one of just three members of the England squad that won bronze at the Gold Coast 2018 Commonwealth Games to be selected for Birmingham.
"If any student-athletes question why they are doing both, my advice would be to keep at it as both are so important," she said. "It's easy to get completely consumed by rugby and sport, so to have that balance and something to escape to – even if it feels challenging at the time – is really helpful.
"It feels tough now but it will be worth it in the long run. You can forget about studies for a while after you graduate too, as I have! I haven't thought much about my degree since 2015 but I know it's there for when I need it."
As well as compete on the Gold Coast four years ago, Wilson Hardy also represented Team GB when rugby 7s made its Olympic debut at Rio 2016 but she says the prospect of competing in front of a home crowd at the Coventry Stadium offers fresh excitement.
"A home Games is a once in a career opportunity," she said. "Rugby wasn't involved in London 2012 so this is the first home multi-sport event for us and it's pretty special.
"I don't think we've got any barriers. It's a youthful squad but the younger players coming through have been a breath of fresh air. Yes, it's a big mountain to climb but I have no doubt that if we are all firing and everyone is on the same page – which is getting more and more common as we get closer to competition – then we can upset the big dogs and anything is possible."
Crompton added: "The sky is the limit. We set out some goals in January about what we wanted from the season and we said we wanted a medal. Then we challenged ourselves and said if we're setting that standard, why not strive for gold? You can only limit yourselves if you put barriers on your dreams. Let's go for gold and see what happens. The home advantage is going to be huge too, which will hopefully help us a lot.
"I want to soak it all up. These kind of opportunities don't come along very often and you don't know how long this journey will be, so I want to enjoy every single second. Obviously I will be very nervous but they will be good nerves. I'm really excited."
Last weekend saw Crompton and Wilson Hardy help England qualify for September's Rugby World Cup Sevens tournament in South Africa. The Commonwealth Games tournament takes place from Friday 29th to Sunday 31st July.
Visit teambath.com/Dual-Career and teambath.com/scholarships to find out more about the support offered to high-performing student-athletes at the University of Bath.
Team picture credit: Sam Mellish Photography