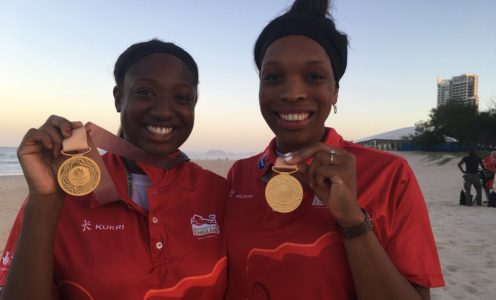 Eboni Beckford-Chambers and Kadeen Corbin will return to Team Bath Netball this week as history-makers after helping England win Gold Coast 2018 Commonwealth Games gold in magnificent fashion.
The Blue and Gold duo were both part of a Roses team that won the coveted title for the first time with a sensational 52-51 victory over hosts and favourites Australia, victory being secured by a Helen Housby goal in the last second of an epic final.
Beckford-Chambers, who was a pillar of strength in defence, said: "What a final! I've been in the England programme for nearly 15 years and this is the culmination of all that hard work."
Attacker Corbin added: "Oh my God, I am overwhelmed. This medal represents everything we have dreamed of and today is the pinnacle. We finally did it – we've made history!"
The victorious Roses team also featured former Team Bath players Geva Mentor, Serena Guthrie and captain Ama Agbeze.
Beckford-Chambers and Corbin are heading straight back to Team Bath, who resume their 2018 Vitality Superleague campaign with a visit to defending champions Wasps on Sunday (3pm).
There are seven opportunities for sports fans in the South West to see the returning heroes in the Blue and Gold at the Team Bath Arena this season, starting with a home match against Celtic Dragons on Friday, May 4 (7.30pm). Click here to buy tickets.
This a pretty boss celebration after England shocked Australia to win their first #GC2018 Netball gold medal. pic.twitter.com/pyzlKAlKGU

— Ann Odong 🐨 (@AnnOdong) April 15, 2018
The netball golds mean that University of Bath-based sportspeople are returning from the 2018 Commonwealth Games with an impressive haul of 17 medals. British Swimming National Centre Bath star Siobhan-Marie O'Connor also won gold when she defended her 200m individual medley title, while there were seven silver and seven bronze.
University of Bath alumnae Deborah Fleming, Natasha Hunt and Amy Wilson Hardy also helped England's women win bronze in the rugby sevens on the final day of competition, courtesy of a 24-19 victory over Canada.
Netball
After her game-changing substitute appearance in Saturday's semi-final win over Jamaica, Eboni Beckford-Chambers started the final against Australia and once again excelled as England went toe-to-toe with the defending champions and tournament favourites.
There was no separating the teams in a first half that finished locked at 25-25 but Australia edged into a two-goal lead at the end of the third period and then extended it to four, only for England – who had rallied from six down in the semi-final – to draw level once again.
They then took the lead before a missed shot allowed Australia to tie the scores at 51-51 with less than 20 seconds on the clock. There was time for one last attack and an obstruction gave England a penalty shot right on the final siren, which Housby – showing nerves of steel – managed to sink to spark scenes of wild celebration.
Team Bath attacker Kadeen Corbin, who played at goal attack in the third period, was also in the history-making squad.
Rugby Sevens
England's women bounced back from a 26-5 semi-final defeat at the hands of New Zealand to claim bronze in the first-ever Commonwealth Games rugby sevens tournament with a 24-19 victory over Canada.
Deborah Fleming was once again on the scoresheet with her fourth try of the Games and fellow University of Bath graduate Natasha Hunt added two conversions before Amy Wilson Hardy came off the bench in the second half to help seal the victory.
Gold Coast 2018 Commonwealth Games – Roll of Honour
Gold: Eboni Beckford Chambers (netball, England), Kadeen Corbin (netball, England), Siobhan-Marie O'Connor (swimming, England, 200m individual medley).
Silver: Eilidh Doyle (athletics, Scotland, 400m hurdles), James Guy (swimming, England, 4x100m freestyle relay, 4x200m freestyle relay, 100m butterfly, 4x100m medley relay), Vicky Holland (triathlon, England, mixed team relay), Cameron Kurle (swimming, England, 4x200m freestyle relay).
Bronze: James Guy (swimming, England, 400m freestyle), Anna Hopkin (swimming, England, 4x100m freestyle relay), Siobhan-Marie O'Connor (swimming, England, 4x100m freestyle relay, 4x200m freestyle relay), Leon Reid (athletics, Northern Ireland, 200m), Chloe Tutton (swimming, Wales, 200m breaststroke, 4x100m medley relay).