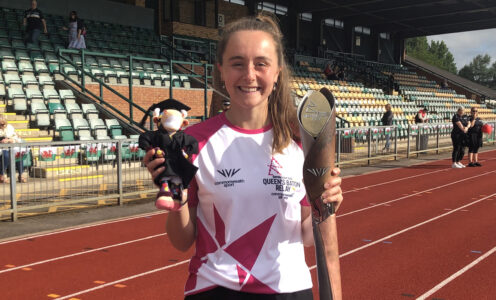 Having been part of the Queen's Baton Relay, University of Bath postgraduate student Holly Munro is set to complete her personal Commonwealth Games journey by representing Wales in hockey at Birmingham 2022.
Munro, who completes a two-year Masters course in Applied Forensic Psychology with Counselling this month, carried the baton when it came through the Welsh city of Newport on its way to the opening ceremony for the Games, which is taking place on Thursday 28th July.
It was a special moment for Munro, who is joined by Chemistry alumna Eloise Laity in the Wales women's hockey squad – they begin their campaign against Canada on Friday 29th (2pm).
"It was an unforgettable experience," she said. "The baton has been round the whole of the Commonwealth and it was an honour to be part of its journey.
"This is my first senior squad selection for Wales and my first Commonwealth Games, so it's going to be an amazing experience. I am fortunate that is a 'home' event so a lot of my family and friends are going to come and watch."
The host venue for the hockey, the University of Birmingham, is certainly a home from home for Munro who was an undergraduate there from 2016-19. Her first season saw her win the national title with Birmingham's 1sts when the University of Bath hosted BUCS Big Wednesday in 2017.
She was also part of the Great Britain set-up before taking a step back from that to focus on her studies at the University of Bath, which Munro began in September 2020.
"I've really enjoyed my time at Bath, it's an excellent course and really interesting," said Munro, who has spent the past academic year on placement at Blackberry Hill Hospital in Bristol.
"I didn't get to spend as much time on campus as I would have liked because of Covid and placement but I've loved it. All of my lecturers have been really understanding about my hockey demands and the Wales Hockey programme is part-time so I've been able to juggle both. I'm hoping to do a Doctorate in Clinical Psychology next and Bath is one of my options."
After handing in her dissertation, Munro – who plays club hockey for Bristol-based Clifton Robinsons – can now focus on the Commonwealth Games after winning her first cap for Wales during a 1-0 win over South Africa in Cardiff last weekend.
"Our target as a team is to have our best-ever finish at a Commonwealth Games," she said. "You never know how other teams are going to perform, so it's going to be a case of taking every pool game as it comes and let's see what happens."
Captaining the Welsh men's hockey team at the Games is Lewis Prosser, who has 161 caps and was an Advanced Apprentice in Sports Excellence student at the University of Bath.