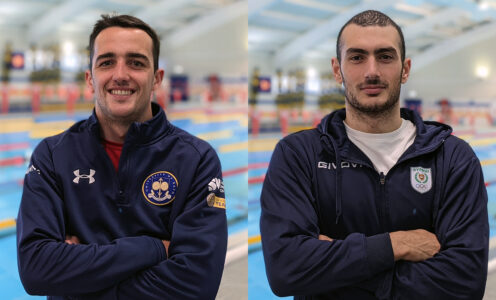 National records and savouring the experience of representing their country on a major stage are the main goals of two members of the University of Bath student swimming squad competing at the Birmingham 2022 Commonwealth Games.
Butterfly specialist Johnpaul Balloqui (left in picture) will be swimming for Gibraltar at the Games when the swimming competition starts on Friday 29th July, while sprinter Markos Iakovidis (right) will join older brother and Bath alumnus Filippos in the Cyprus squad.
Both are coached by Mark Skimming at the Team Bath Sports Training Village, with Civil and Architectural Engineering student Balloqui looking forward to his latest international competition.
"It's exciting, it's what I've been building up to through the whole season," said Balloqui who will compete in the 50m, 100m and 200m butterfly, as well as the 4x100m and 4x200m freestyle relays. "I've known since September there was a good chance I would be selected, so every meet and training session has been working towards this.
"I've been to a few big events in the past. I went to the Commonwealth Youth Games in 2017, the 2019 European Short-Course Championships in Glasgow and the World Short-Course Championships in Abu Dhabi last December, which were all great experiences.
"I hold the national short-course record for the 200m fly, which is my main event, and missed the long-course record by two-tenths of a second at a meet in Portugal last month so that is my big target for the Commonwealth Games but I also want to enjoy the experience."
While Balloqui has a big-event background, Sports Performance student Iakovidis will be making his debut at Birmingham 2022 and cannot wait to get going.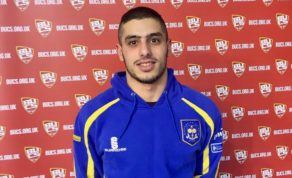 "It's a blessing and a great opportunity," said the 50m freestyle and breaststroke specialist. "I've worked really hard to qualify for the Commonwealths and I've managed to do it. It's my first time at a major international meet so I just want to represent my country well and do the best I can.
"I want to break my national record on the 50m breaststroke and if I can make a semi-final, that would be great."
Helping Iakovidis settle onto the international stage will be brother Filippos, who also trained with Skimming at the University and has gone on to compete at such events as the recent World Championships in Budapest.
"When I was younger and Filippos was here in Bath, he was qualifying for every major international meet and I thought 'that would be a great place for me to go as well'," said Iakovidis. "We've been on teams before but not at a major meet. We're going to be sharing a room and representing Cyprus together, so it's going to be great."
Representing England at the Commonwealth Games are four former members of the University of Bath student swimming club – Tokyo 2020 Olympic gold-medallist Anna Hopkin, World University Games gold-medallist Jay Lelliott, Luke Turley and newly-crowned World Champion Ben Proud.
Double Olympian Proud trained with the University squad for 16 months from January 2021, during which time he competed at the Tokyo Games and won 50m freestyle gold at the World Short-Course Championships.
Balloqui said: "I was there to watch Ben win gold in Abu Dhabi and it was incredible, he works so hard and really deserves it. Training with him was really fun and it was very interesting to see how someone at his level trains and thinks. He got on well with us too and enjoyed chatting to us. He has a very good dive so would give us pointers on what we could do to improve ours.
"I love training with Mark too, I've really got on well with him throughout my four years here and my level of swimming has really improved. I didn't arrive with the best technique but he has helped me improve a lot, as well as my endurance. 100m fly was my main event when I arrived but as my endurance improved my 200m became better."