Team Bath Netball Club
A thriving club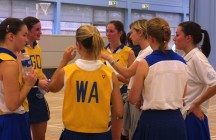 Team Bath Netball Club is a thriving and dynamic club consisting of eight senior and 10 junior teams playing netball from local county to national level.
The National Premier League is the country's second tier of netball, competed between 10 national netball teams including Team Bath Toucans – our secondary senior team.
The club also has senior teams competing at regional and local level.
For further information about joining the senior section please visit the Team Bath Netball Club website or email us.
Youth netball
Team Bath Netball Clubs has ten junior teams across a variety of ages from U11 upwards. Training is offered to suit young netballers of all ages and abilities.
All junior teams play in the Avon Junior League, and specially selected U16 and U14 squads play in the SW Regional U16 league and SW U14 tournament. The progression of many of our promising juniors to senior level each year brings an injection of youth and energy that keeps the club continually developing and continually on its toes.
For more information on joining the junior section – ages 11 through to 16 (school years 7 to 11) please contact the junior admin secretary, Lesley Robbins.
In addition our coaches also support the University High Five and Under 12 netball training sessions provided by Team Bath Tribe. For further information please contact the Team Bath Tribe office.