Coaching and Coach Education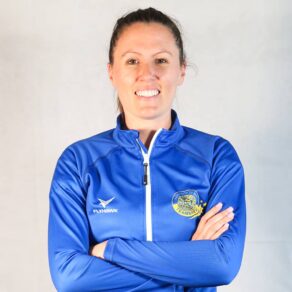 Team Bath's coaching team is led by Asha Francis. She had three successful playing spells with the Blue & Gold, dating back to the first Super League season, and captained the 2013 title-winning team. She also coached the University of Bath student netball club and was Technical Coach during the 2022 Superleague season before being appointed as Head Coach in the summer of 2022.
The work of the netball coaching team is backed up by expert support from Team Bath's Physio and Sport Science Centre and the UK Sports Institute.
The netball coaching team works alongside Netball South West and their regional performance pathway coaches.
Coaches
Netball Super League
Asha Francis – Head Coach
Chani Wopara – Assistant Coach
Tracey Phillips – Superleague Team Manager
Team Bath Futures
Natalie Roddy – Academy Head Coach
Student
Anya Le Monnier – Student Performance Programme Lead
---
Team Bath's brand-new coaching forum is here for 2023! It offers the chance to engage in interactive, thought-provoking and innovative coaching content and discussions, with exclusive insights into the coaching happenings under the roof of the Team Bath Sports Training Village, home of the Blue & Gold Super League squad.
Head over to Facebook and answer our membership question to join the forum: www.facebook.com/groups/teambathcoachingforum/
Coaches are also invited to take part in Team Bath Netball's Coach Development Programme which will be offering a series of unique and inspiring learning opportunities throughout 2023. Click here to find out more.