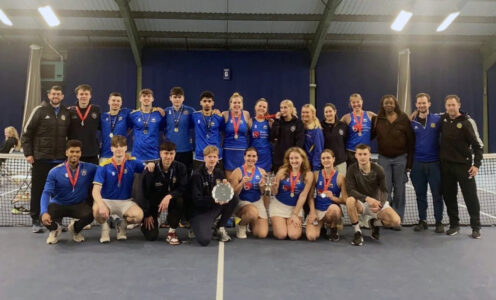 The University of Bath's student tennis teams capped an outstanding 2022-23 season by winning two national titles on BUCS Big Wednesday.
There were also silver medals for teams in badminton, hockey and netball as students proudly represented the Blue & Gold of The SU Bath in national finals in Nottingham on Wednesday.
The Bath Tennis women's 1sts, sponsored by Bath Building Society, wrapped up a league and cup double as they completed their unbeaten season with a fantastic 4-2 victory over Stirling in the National Championship final.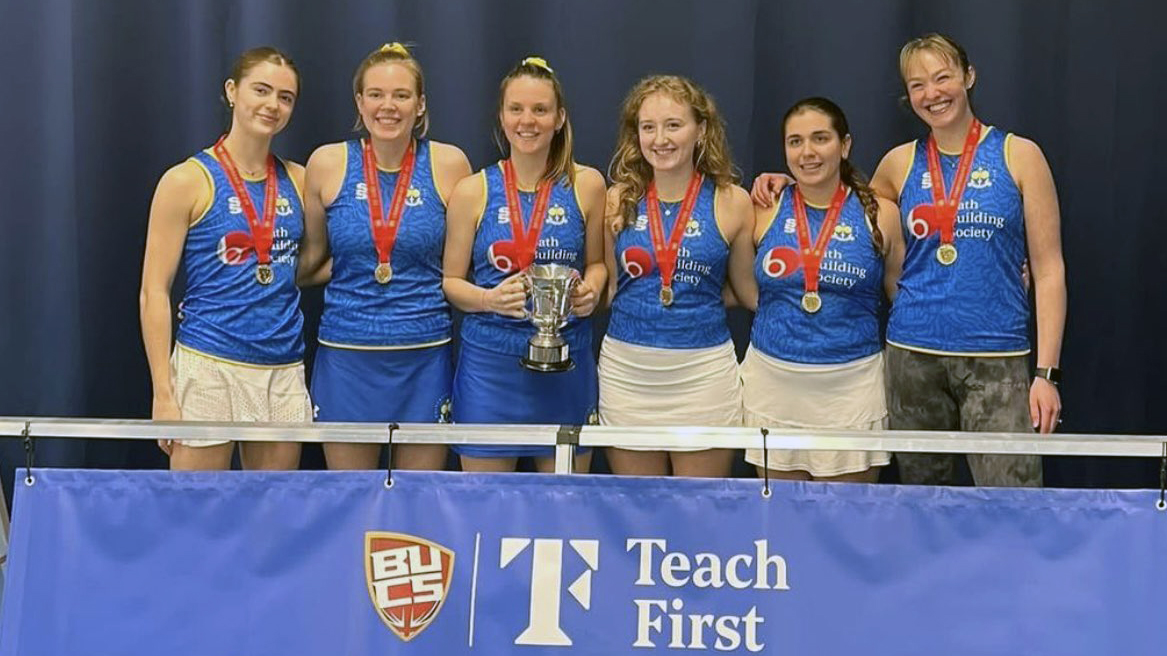 Freya Davies and Orla Cooper got them off to a flying start, winning the opening doubles rubber 6-0 6-3, before Fran Franchi and Millie Devey Smith came from behind to win their match 4-6 6-4 10-4.
The trophy was secured in the first two singles matches as Davies stormed to a 6-1 6-0 victory and Cooper won 6-1 6-4 to give Team First Women's Premier (National) champions Bath an unassailable lead.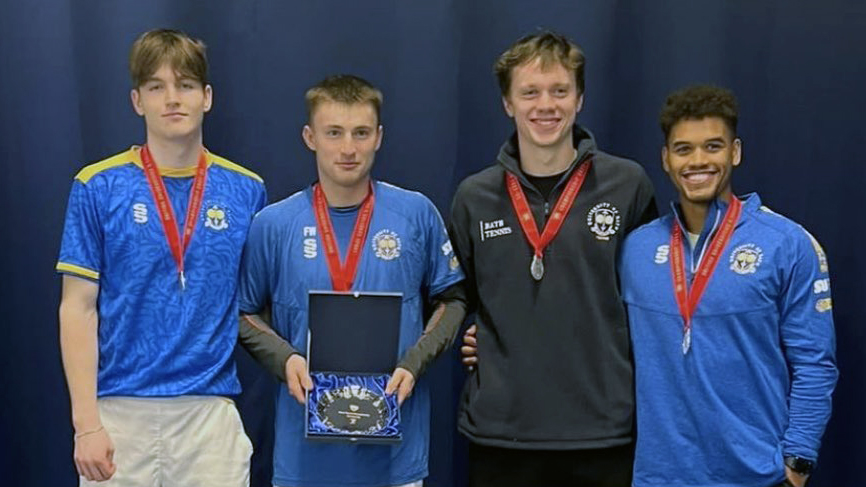 Bath's men put up a fantastic fight in their National Championship final, also against Stirling, and were level after the doubles thanks to a 6-4 6-3 win for Matthew Doe and Harry Lazell in their rubber.
Lazell also won his singles 6-0 6-2 but the other matches featuring Doe, William McLennaghan and Fred Withers all went to three sets. Stirling were able to battle through them, though, to seal a 4-2 overall victory but Bath could be proud of their silver medal after a fourth-placed finish in the league.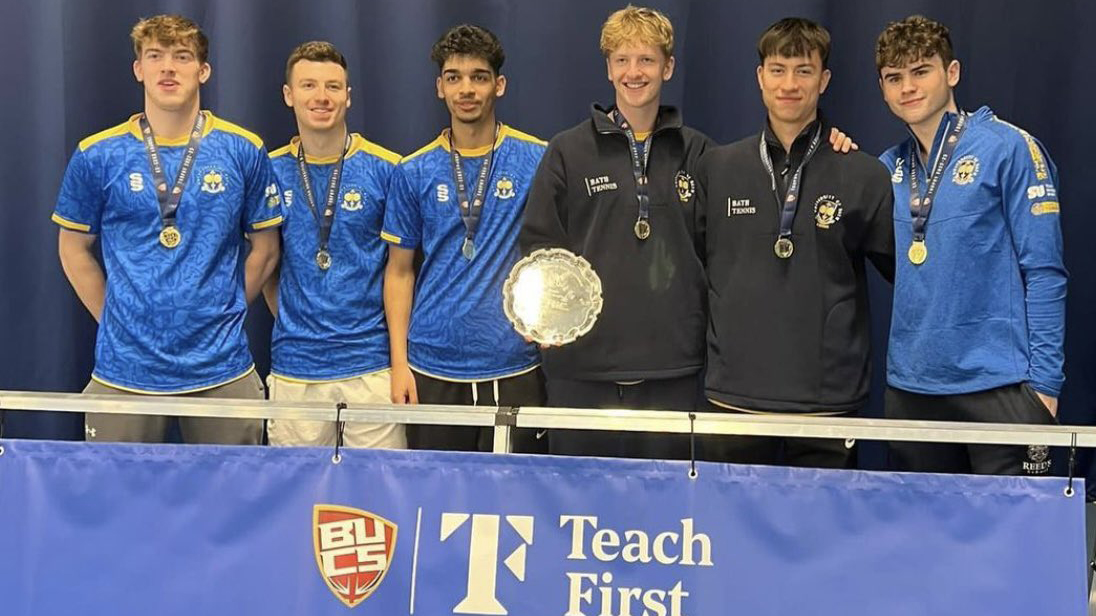 Bath men's 2nds went one better in their final as they beat Stirling 4-1 to add the National Trophy to the Teach First Men's Premier South league title at the end of an excellent unbeaten season.
The University of Bath also had two teams in action in the netball finals, with the women's 1sts – featuring Team Bath Super League trio Sophie Kelly, Lily Jones and Jayda Pechova – losing out 64-48 in a high-quality Championship decider to a Loughborough side also featuring a host of Super League players.
The 2nds have enjoyed a brilliant season to ensure Bath would be represented in the Trophy final for the first time in many years but Leeds Beckett's 1sts proved too strong as they came from behind to win 70-48.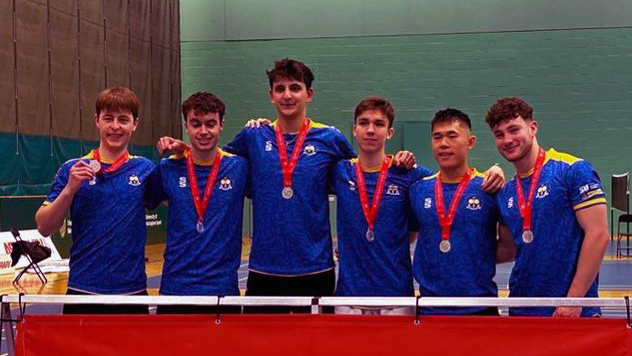 On the badminton court, the Bath men's 1sts – winners of the Premier South title – were beaten for the first time this season by Premier North champions Loughborough in a well-fought Championship final. William Jones and Toby Dillingham won a doubles rubber 21-13 21-18 and there was a 21-18 21-18 singles win for Kaylan Jensen, while Chris Liu, Harry Hodges and Harry Jones were all involved in hard-fought contests during the 6-2 overall defeat.
Bath women's hockey 1sts were also in action during a busy day, narrowly losing 2-1 to Nottingham Trent in the ICG Women's National Vase final.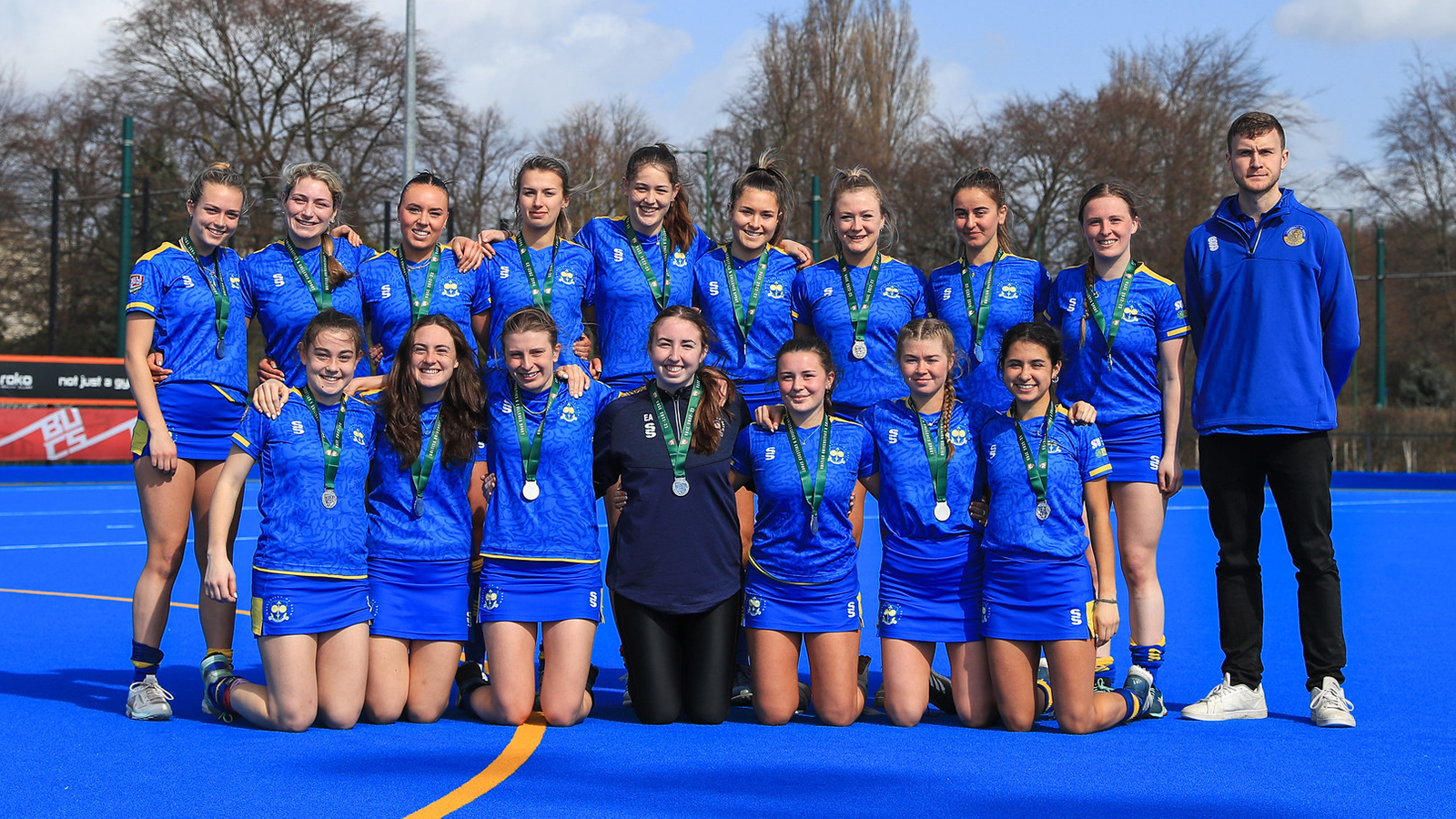 BUCS Big Wednesday marks the culmination of the British Universities & Colleges Sport league season, which runs annually from October to March, with Championship and Trophy finals taking place across 16 different sports.