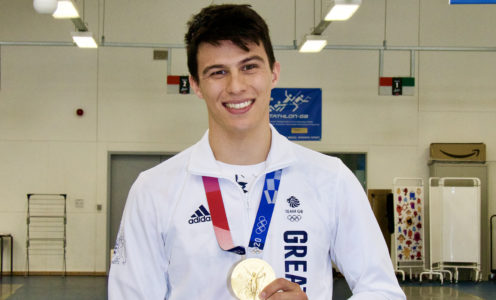 Joe Choong, who trains and studied at the University of Bath, completed a golden double for Britain's modern pentathletes on Saturday as he won a historic Olympic title at Tokyo 2020.
The Mathematics graduate was in dominant form throughout the men's final in the Tokyo Stadium and, after coming under some pressure in the closing stages of the run-shoot, held his nerve to produce a sprint finish to a dramatic run-shoot and claim the first-ever individual medal for a British man in the five-event sport with a new Olympic record.
Victory came just 24 hours after Pentathlon GB team-mate Kate French had won the women's final and was an incredible ninth Olympic gold won by University of Bath-based sportspeople in Tokyo, joining British Swimming National Centre Bath quintet Tom Dean (2), James Guy (2), Freya Anderson, Calum Jarvis and Matt Richards in the roll of honour.
"I'm in shock," Choong told the BBC. "The running was pretty tactical, I preserved myself for the last two laps in case someone challenged me and I've nailed it.
"I've always said I want to be the best in the world at something. I've been world number one but it's not the same as winning a World Champs or Olympics, so this is literally a dream come true.
"I couldn't let Kate have all the limelight! We always seem to match each other's results so I felt a bit of pressure to keep up with her."
Former World and European Champion Jamie Cooke also produced a strong performance in the men's pentathlon final to finish ninth overall at his second Games.
Choong had won the World Cup Final on his last visit to Tokyo, which doubled as the Olympic test event in 2019, and he was in fantastic form throughout his second Olympic final.
He won 25 of his 35 bouts in Thursday's fencing ranking round to hold top spot going into today's action, which he consolidated with the third-fastest time of 1:54.87 in the 200m freestyle swim – team-mate Cooke was second-fastest in 1:53.80 to move into the top ten for the first time.
Just three athletes picked up maximum points during a tough riding round but both Cooke and Choong rode well, picking up just one and two penalties respectively, which meant they went into the decisive run-shoot ranked ninth and first respectively.
Choong had a 12-second lead at the start of the final discipline and some well-paced running from the Brit kept them at bay until the last visit to the range, when Egypt's Ahmed Elgendy – who had surged through the pack from 13th – briefly took the lead.
However, the Brit had plenty left in the tank and stormed away in the last 400m to sprint over the line and seal a historic victory. Cooke maintained his ninth place to ensure two Brits finished in the top ten.
Choong's historic medal was the seventh won by Pentathlon GB athletes since their National Performance Centre was established at the Team Bath Sports Training Village in 1998. The programme, overseen by Performance Director Jan Bartu, has enjoyed tremendous success during that time with Steph Cook (gold), Heather Fell and Samantha Murray (silver), Kate Allenby and Georgina Harland (bronze), and now French and Choong all winning Olympic medals. Click here to find out more.
Stephen Baddeley, Director of Sport at the University of Bath, said: "Huge congratulations to Joe. We are privileged to see him training day in, day out at the University and it was clear he had the ability, determination and belief to become an Olympic Champion, so for him to put it all together in one historic performance was wonderful to see.
"That is a second gold for Pentathlon GB in 24 hours, both won by University of Bath graduates, and a seventh medal in six Olympic Games so massive praise has to go to Jan and all of the athletes, coaches and staff – we are incredibly proud of you all."
Saturday also saw the final event at these Olympics featuring an athlete training at the University of Bath as Emily Diamond helped the British women's 4x400m relay team finish fifth in 3:22.59. It was the third-fastest time ever by a GB quartet.