Stephen Baddeley – Director of Sport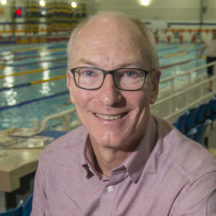 Stephen Baddeley has been the University of Bath's Director of Sport since February 2010.
A former professional badminton player, Stephen won numerous Commonwealth, European and national titles in a career running from 1982 to 1990. He remains England's only Commonwealth Games men's singles gold medallist following his success in Glasgow in 1986.
He was British badminton team manager when the sport made its Olympic debut at Barcelona in 1992 and then took up coaching roles in Scotland and Switzerland before becoming Performance Director of Badminton England in 1996 and then Chief Executive in 1998.
In 2004 he became Director of National Sport at Sport England and his four years there included a spell as interim Chief Executive.