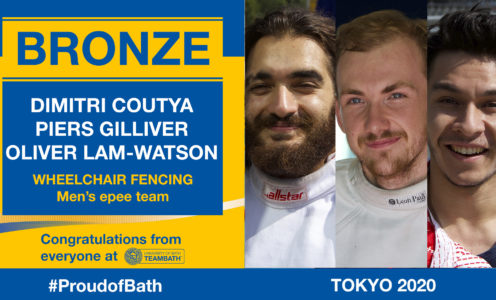 There were more medals for University of Bath-based wheelchair fencers at the Tokyo 2020 Paralympic Games today as Dimitri Coutya, Piers Gilliver and Oliver Lam-Watson won bronze in the men's team epee competition.
Victory over the Ukraine sealed the medal with all three fencers recording wins against their opponents in a rapid-fire win.
Earlier the trio reached the semis via three convincing wins against France (45-29), Ukraine 45-28 and Poland 45-30.
In the semi-final they came up against an in-form Russian Paralympic team who led more or less throughout the contest to win 35-45.
Coming off that loss, the GB fencers had to pick themselves up quickly and refocus.  They went into the contest knowing that they had already beaten Ukraine earlier in the day.
Piers Gilliver and Dmitri Coutya got them off to a winning start with  5-2 wins over Artem Manko and Andrii Demchuk, swiftly followed by a 5-4 win from debutant Oliver Lam Watson against Oleg Naumenko.
From there, the GB trio looked strong despite a spirited Ukrainian push-back at the tail-end of the contest during which they came back from several points  adrift to come within four of the GB total during the penultimate clash between Lam Watson and Manko.  A final push from Gilliver against Andrii Demchuk saw the team home by seven touches 45-38, seeing GB safely onto the podium.
Gilliver said: "It hasn't quite sunk in yet, but it feels amazing. It's what we've been aiming and training for, so for it to come off is something else. It has been a big challenge psychologically to be competing for the first time in nearly two years. We haven't done team events for long so to come away with a medal is amazing."
"I am so happy with today's result," said Coutya. "It really raises your confidence seeing all the hard work we've put in come together.
"It has been a challenging competition with lots of emotions to manage, but we do a lot of work to keep our mental state in the best position to compete. I'm delighted we have achieved this today."
Paralympic debutant Lam-Watson added: "I love competing in a team – it is lovely to compete with my two best friends. To get such a great result with the guys is phenomenal.
"The Paralympics have really surpassed my expectations and it is so great to share it with my team. The progression that the team has made is amazing."
The bronze came just 24 yours after Gilliver and Coutya had won gold and bronze respectively in their individual epee events, while it was a dream Paralympics debut for Lam-Watson who joined the Bath-based EIS World-Class Wheelchair Fencing Programme in 2019.
All three are coached by Peter Rome at the Team Bath Sports Training Village and will be back in action on Sunday when they contest the team foil event. Coutya also competes on Saturday in the individual Category B foil, a discipline in which he has won one gold and two silver at the past three World Championships.
Eight University of Bath-based sportspeople are competing at the Tokyo 2020 Paralympic Games. Visit www.teambath.com/Tokyo2020 for full details.
Notes: Quotes sourced from ParalympicsGB news service.