Fitness
The Right Place For You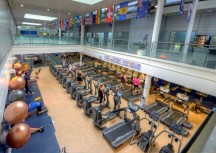 You have found the right place if you want to get fitter – no matter where your starting point.
We have a fully-equipped gym and a range of fitness classes and membership options for all levels.
Individually-tailored
Fitness advice and tailored programmes come as standard.
If you want to go that bit further, we have personal trainers who can create an individually tailored solution for you to maximise your results and assist with motivation.
Should you require, we can also offer full fitness tests and assessments so you can benchmark your performance and set associated targets.
At the very top end of sport, we have strength and conditioning experts who can help you raise the bar even further.
And if you would like a career in sport and fitness, we can help Training and Development
Our gym features 102 stations with some of the best facilities around. There are 57 new pieces of cardiovascular equipment include a dozen treadmills, 11 cross-trainers, 10 rowing machines and 45 strength stations with an impressive range of free and fixed weights.

You can step up the pace of your training or ease off and relax thanks to the diversity of our studio classes. We typically offer more than 35 classes a week, covering everything form X-biking, Latino aerobics and circuit training to yoga and Pilates.

We offer a range of competitive gym, studio classes, athletics, tennis, swimming and GOLD membership packages to help you achieve your fitness goals in a uniquely inspirational setting.