Legendary swim coach David McNulty, who has guided a host of British stars to Olympic, World, European and Commonwealth success, has today been inducted into the University of Bath Hall of Fame for Sport.
McNulty has been a hugely-popular presence around the University's Sports Training Village (STV) for the past 14 years, during which time he has developed the British Swimming National Centre Bath into one of the world's leading training programmes.
Thirteen medals have been brought home from the past three Olympic Games by swimmers at the centre, including an incredible seven gold at Tokyo 2020 last summer led by double successes for Tom Dean and James Guy.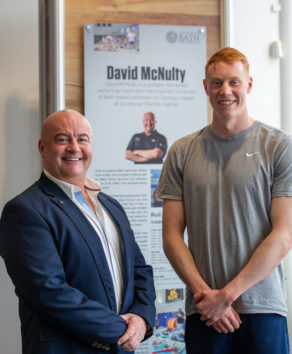 Dean was among a big crowd who turned out at the STV this morning to see McNulty welcomed into the Hall of Fame for Sport by Professor Ian White, Vice-Chancellor and President of the University of Bath.
"Thank you to the University of Bath for this award," said McNulty. "I remember seeing the Hall of Fame pillars going up a few years ago and thinking 'I would love to be a part of that some day', so this is a great honour.
"I think this is an amazing place – what a city, what a university – and the STV is just outstanding. I've been to a lot of venues around the world and I've never been to a place that feels like this, with so many different sports under one roof and so many coaches. It absolutely oozes performance and it's an amazing place to work.
"I've done three Olympic Games here and we've won 13 medals. It's a legacy I want to keep going, I want more medals for British Swimming and I want to do it here at the University of Bath, I wouldn't want to be anywhere else."
Professor White added: "I regard it a great privilege simply to be asked to honour a most wonderful person who I have come to respect enormously. When you meet Dave, you cannot fail to be struck by his energy and enthusiasm. Thank you so much for all you have done and continue to do, not just for your swimmers but for sport here in Bath and in Great Britain."
Dean spoke on behalf of the swimmers coached by McNulty and said: "There are three main attributes I can think of that make Dave such a great coach from an athlete standpoint. The first is his incredible breadth and depth of knowledge and experience within the sport; there's his attentiveness and care for his athletes, you can approach him with any question be it in or out the pool; and most importantly, something I've learnt in the last year, is his prowess on the world arena. Some people crumble but when Dave walks out at an Olympic Games he is so comfortable and that confidence is infectious."
Jack Buckner, CEO of British Swimming, also attended the event and added: "Across all the major championships – Olympic, World, European and Commonwealth – Dave's swimmers have won a total of 111 medals. That's a quite incredible achievement but I think more important is Dave the man, he's a great coach and you have the sense he is always there for his swimmers."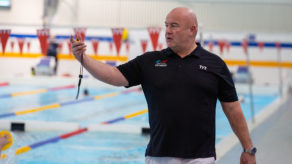 A former competitive swimmer himself, McNulty gained his first part-time coaching experience aged 20 in his native County Durham and, over the next 18 years, rose through the ranks to become Head Coach of Durham Aquatics.
He made his senior international debut as a coach with British Swimming in 2001 and attended his first Olympic Games in Athens in 2004. Four years later he coached Jo Jackson to 400m freestyle bronze at Beijing 2008, one of only three medals won in the pool that year by Team GB.
It was after Beijing that McNulty moved to the South West to become Lead Coach at the Bath National Centre, one of two NCs established during a restructuring of British Swimming. Among the initial small intake of swimmers were Chris Walker-Hebborn and Andrew Willis, who both went on to be double Olympians.
Michael Jamieson, a fellow Hall of Fame for Sport inductee who joined the set-up in its second year, won a superb silver medal in the 200m breaststroke at London 2012 and more silvers were to follow at Rio 2016 for Jazz Carlin (400m and 800m freestyle), Siobhan Marie O'Connor (200m individual medley) and Walker-Hebborn (4x100m medley relay).
Tokyo 2020 proved to be an incredible Games for the National Centre Bath with both Dean (200m freestyle, 4x200m freestyle) and Guy (4x200m freestyle, mixed 4x100m medley) being crowned as double Olympic Champions. Anderson also won mixed 4x100m medley gold and there was a men's medley silver for Guy, while Jarvis and Richards – part of Jol Finck's training group at the National Centre – were gold-medallists in the 4x200m freestyle too. Those successes led McNulty to being named as Coach of the Year at the 2021 Team GB Awards.
McNulty – who was part of the inaugural intake of UK Sport's elite coaching programme, successfully graduating in 2016 – has been vocal in his praise for the University of Bath and its support for the National Centre. He has also worked closely with Team Bath staff over the years, particularly Director of Sport Stephen Baddeley, to ensure the swimming facilities at the Sports Training Village are world-class. Improvements during the past decade include a complete refit of the London 2012 Legacy Pool, installation of underwater cameras and a retractable 25m turn-wall to help short-course training.
McNulty is the 29th inductee into the Hall of Fame for Sport, which recognises the outstanding contribution made by athletes, coaches and administrators to sport at the University of Bath and Team Bath. Other members include swimming champions Mark Foster, Sascha Kindred and Stephanie Millward, Olympic medallist Paul Palmer, fellow swim coach Andrei Vorontsov and former rugby player Nigel Redman, who is a former Head of Performance Team Development for British Swimming.