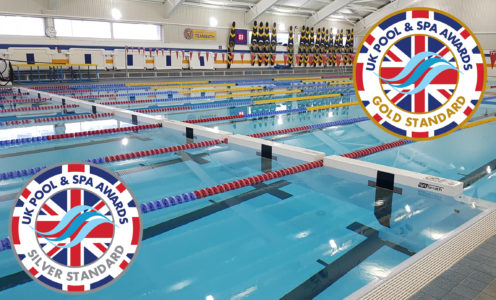 The pioneering SwimWall system that allows the Olympic-sized swimming pool at the Team Bath Sports Training Village to be adapted to a 25m facility has won two prizes at the annual UK Pool and Spa Awards.
SR Smith, the US company that installed the turning board system in 2019, was awarded the Gold Standard for Pool Product of the Year and Silver Standard for Commercial Pool Project of the Year.
The SwimWall, which sits on the base of the pool, is retractable and can be raised across the entire width of the pool or just half of it. That allows training groups – including the hugely-successful British Swimming National Centre Bath, Pentathlon GB, British Triathlon and the University's student swimming club – to use both 50m and 25m lanes at the same time, optimising training time and pool utilisation.
The shorter distance is ideal for those in sprint training, working towards short-course championships and, in Pentathlon GB's case, preparing for the rescheduled Tokyo 2020 Olympic Games where their swimming discipline will take place in a 25m pool.
The SwimWall has also been used for Covid-compliant public swimming sessions during the past year, as it allows the pool to be reconfigured into 16 25m lanes instead of eight 50m lanes.
Here's how the SwimWall operates:
Stephen Baddeley, Director of Sport at the University of Bath said: "We are delighted with our SwimWall System which provides a really firm turning surface for the many elite swimmers who use our facility.
"My staff delights in the ease and speed with which they are raised and lowered, while the flexibility created by being able to divide our pool into 16, rather than eight, separate lanes has improved our customer offer and been particularly useful during these Covid-constrained times."
SR Smith has been making quality swimming pool deck equipment and accessories since 1932. The company has manufacturing locations in Oregon, Arizona, and Tennessee, as well as operations in Australia and a sales office in France. For more information, visit srsmith.com.