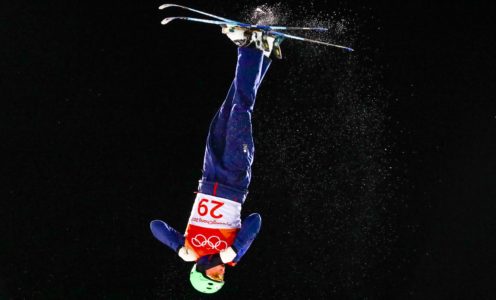 Lloyd Wallace said competing at PyeongChang 2018 was "the craziest night of my life" after the University of Bath graduate defied the odds to make his Winter Olympic Games debut.
Saturday's qualifying stages for the men's aerials were the highest-scoring competition ever and Wallace finished 20th overall after his second jump – a back full-full-full – scored 100.03 from the judges, ranking him 11th in that round.
"What a show – that was the craziest night of my life!" said Wallace, a Sports Performance graduate who does his strength and conditioning work at the University of Bath thanks to a Team Bath Service Support Grant.
"The amount of support I've received is actually unbelievable. Thank you to everyone who watched, sorry I couldn't make it to the finals.
"I landed my second one and I was extremely pumped to put one on my feet in front of all my friends and family. It's been so cool here at the Games and I definitely want to come back."
Representing Team GB at the Winter Olympic Games came almost six months to the day after Wallace suffered a severe head injury in training and was placed in an induced coma before making a remarkable recovery.
"It's been a crazy six months," said Wallace, whose parents Robin and Jilly also competed at the Winter Olympics in 1988 and 1992 respectively. "I've had to come back from severe concussion and losing muscle mass. I've had to work extremely hard.
"My season has gone from the huge highs of getting back into it and then really low lows of midway through the season when things weren't going too well and qualification for the Olympics was on the line but I've got here, I've jumped at the Olympics, I've competed and I'm an Olympian. It's unbelievable."
Wallace was supported by a Santander Sports Scholarship, the Talented Athlete Scholarship Scheme (TASS) and the Team Bath Dual Career programme while combining his study and sport at the University of Bath.
Applications are now being taken from both current and prospective student-athletes for the 2018-19 Sports Scholarships programme, made possible by the generous support of University of Bath alumni. Click here for more information.
Picture: USA TODAY Network/SIPA USA/PA Images