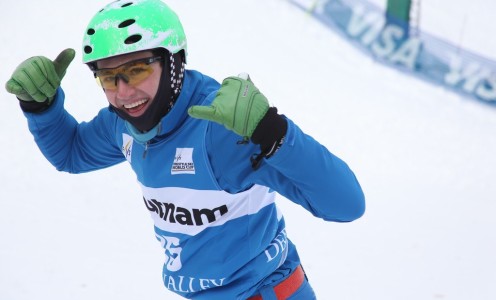 Regardless of where he places at PyeongChang 2018 this weekend, aerial skier Lloyd Wallace believes he has already enjoyed one of the biggest wins of his career just by appearing at the Winter Olympic Games.
It is only six months since the University of Bath graduate was placed in an induced coma after suffering a severe head injury while training in Switzerland. Now, after a remarkable and rapid recovery, he is ready to compete on the greatest stage of all.
"I'm feeling no pressure, just excited more than anything," said Wallace, who celebrated his 23rd birthday yesterday (Tuesday). "To come back from a big injury and make it to PyeongChang is a huge win in itself for me.
"I've just had an unbelievable week of training at a pre-Olympic camp in Bifuka, Japan, in near-perfect weather conditions. I took some big steps forward in terms of consistency and working on my jumps ahead of the biggest event of my life.
"It's my first Olympics and I'll be the first GB male aerialist in 20 years to compete at the Games. My coach and I know that I perform at my best when I'm enjoying myself so now I can go and show the world what I've got."
Wallace, a Junior World Championships bronze-medallist and Britain's first-ever Europa Cup gold-medal winner, had just graduated from the University in Sports Performance and was training with the Swiss national team when he fell and was knocked unconscious while practicing a triple-twisting triple backflip.
He suffered severe concussion but made a full recovery and returned to his land-based training at the University, where he is supported by a Team Bath Service Support Grant and works with lead strength and conditioning coach Harri Cizmic.
"Training with Team Bath has been huge for me this season," said Wallace, who was supported by a Santander Sports Scholarship, the University's Dual Career programme and the Talented Athlete Scholarship Scheme (TASS) while combining his study and sport.
"I lost 7kg of muscle mass post accident but I had a strong three or four weeks after coming back from my injury where I was able to put all the weight back on. If it hadn't been for the hours I was able to put in with Harri in the high-performance gym, I wouldn't be anywhere near where I am now."
Wallace was able to return to the international circuit in time for the Olympic season and secured the points he needed to clinch his Team GB place for PyeongChang, with qualification confirmed at the end of January.
"It's been a whirlwind of a turnaround," said Wallace, whose parents Jilly and Robin have also represented Team GB at the Winter Olympic Games.
"Qualifying, kitting out, Japan, the opening ceremony – everything has happened so quickly and there is no applying the brakes now. I've got a job to do and I can reflect on everything once it's all over.
"There is no huge expectation on me considering everything that has happened in the past six months. I know what I am capable of and that I can compete against the best in the world.
"I have qualifying on Saturday and if I can get into the top 12 and through to the finals on Sunday, then it is anybody's game. I have the weaponry to put myself into a good position, it's all down to performing well on the day and that's all I have to concentrate on."
Wallace is one of two Team GB athletes competing at PyeongChang 2018, along with skeleton slider Dom Parsons, to have been supported by the Team Bath Dual Career programme as they combine study and sport.