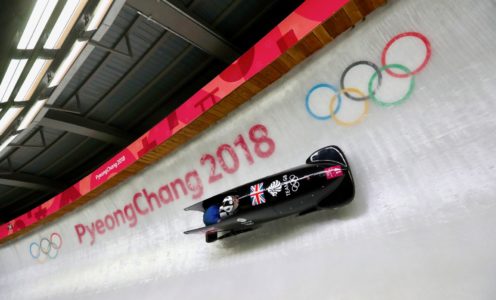 Mica McNeill and Mica Moore achieved Team GB's best-ever women's bobsleigh result at a Winter Olympic Games when they placed eighth at PyeongChang 2018 on Wednesday.
The 2017 Junior World Champions, who train with the British Bobsleigh & Skeleton Association (BBSA) at the University of Bath, went into day two lying sixth overall after two fine runs on Tuesday.
They lost a couple of places in the third run but maintained eighth position in their fourth to improve on Team GB's previous best of ninth achieved by Nicola Minichiello and Jackie Davies at Turin 2006.
"We're buzzing about that result," said pilot McNeill. "We deserved to come here, we knew we could absolutely kill it.
"I've had fewer runs than anyone here and my limited experience on this track showed a little bit. I put two great runs down in the first two heats and we were up there in the medal mix but I had a mistake on the third run, I was just letting it run in turn eight and we caught the roof and it made trouble for a couple of corners.
"We want to go to Beijing 2022 and absolutely smash it and be among the medals. We've got four years to work on things, get faster on the start and improve my driving skills. I definitely think we're capable of a medal in four years time."
Moore added: "Our brains are just frazzled, we are just so happy. We can't believe we are here to start with and then to come eighth and make history with the best British finish is incredible.
"All our families are here, we are going to meet up with them and just enjoy time with them as it's been a long, stressful season.
"We can improve on so much. We are only tiny and we can make ourselves stronger and faster. We are so determined to improve. We are very determined girls, don't put anything past us."
Focus now turns to the four-man bobsleigh, with Team GB fielding two crews in the competition on Saturday and Sunday.
Picture of Mica McNeill and Mica Moore courtesy of David Davies/PA Wire