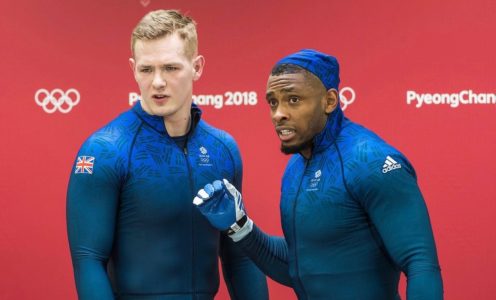 Brad Hall and Joel Fearon believe the signs are promising ahead of this weekend's four-man bobsleigh competition after securing a top-12 finish in the two-man on Monday at the PyeongChang 2018 Winter Olympic Games.
The British duo's combined time of 3:18.34 from the four runs was 1.48 seconds adrift of champions Justin Kripps and Alexander Kopacz of Canada but still a personal best two-man result for the pair at world level.
"We dropped a few places but that's still my best performance thus far," said Hall, who went into the second day of competition ranked seventh. "Hopefully if I can bring the same driving as I did yesterday in two-man to the four-man we should be in business."
Fearon added: "It's all building really well for the four-man. We're going to add a couple of extra horses to the sled and see what happens.
"We know we have got kit that can work, we know Brad likes it so it should be good. Today was a personal best for the two-man so if we can do that in the four-man that would be great."
Tuesday sees World Junior Champions Mica McNeill and Mica Moore take to the ice in the women's competition – they recorded the second and third fastest times in official practice on Monday.
The British Bobsleigh & Skeleton Association (BBSA) is based at the University of Bath and train on the UK's only outdoor push-start track.