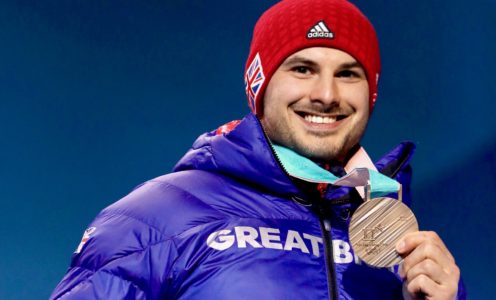 University of Bath student Dom Parsons has won Team GB's first medal of the PyeongChang 2018 Winter Olympic Games after bagging a brilliant bronze in the men's skeleton on Friday.
Parsons, who combines his sport with a PhD in Mechanical Engineering, is the first British man to win a skeleton medal since 1948 and the fifth skeleton athlete since 2002 to win a medal while training at the University of Bath.
"That was a bit of a rollercoaster and it hasn't really sunk in yet," said Parsons, whose combined time of 3:22.20 for his four runs put him 11-hundredths of a second ahead of Latvia's Martins Dukurs after a dramatic second day of competition. South Korea's Yun Sung-bin won gold by a record 1.63secs and Nikita Tregubov, an Olympic Athlete from Russia, took silver.
"I thought I'd lost it after that fourth run, it felt like it had gone and I thought I'd binned it, but Martins has made some more mistakes and he's the last person I'd expect that from, he's been dominant for so many years.
"It's just those little hundredths making a difference. It is so close at the top, I'm just grateful that I got lucky.
"It's just incredible. Four years of work has gone into this, right from after Sochi when I started working with [former Olympic skeleton racer] Kristian Bromley, this has been the goal from that point. Sometimes it seemed like it wasn't that close in coming and it's just amazing that it's all come together this time.
"It's been great, all the work we've put in has paid off. Right now it's just very hard to process and doesn't seem real.
"In the last Olympic season I did it the wrong way around. I'm got a podium in the first race and my results declined. This year it's been the other way around. The last couple of races things have been improving and I was starting to gel with my set-up."
From agony to elation. Amazing drama in final few runs of the men's skeleton.

Oh, and @domparsons only went and won Olympic bronze🥉! ☺

(via @BBCSport)pic.twitter.com/fOCN00GxGq

— Team GB (@TeamGB) February 16, 2018
British team-mate Jerry Rice – who, like Parsons, trains with the British Bobsleigh & Skeleton Association (BBSA) at the University of Bath, using the UK's only outdoor push-start track – finished a fantastic tenth overall, the best result of his career on the international circuit.
"Dom finished tenth in Sochi four years ago and I see myself on that same trajectory, it definitely gives me an extra drive," said Rice.
"It's amazing for Dom, he made us all nervous right at the end there but he deserves it. He works hard and he was the man who always said that he had the potential to do something like that and he's done it."
Professor Chris Brace, who is Parsons' supervisor on his Mechanical Engineering course at the University of Bath, said: "Everyone here at the University of Bath would like to congratulate Dom on winning bronze and we look forward to celebrating with him upon his return to Bath.
"We're really proud of Dom, he's a really chilled out student and very popular with his fellow researchers. After the pressure of top-level sporting competition he takes the challenges of academic life in his stride.
"His research into advanced combustion is exemplary and quite a contrast to the physics at work in skeleton. I'm sure his engineering insight helps his preparations."
Parsons' medal was the fifth won by skeleton athletes since the outdoor push-start track was opened at the University of Bath in 2002, the other four being in the women's competition.
Alex Coomber won bronze at Salt Lake City in 2002 and University of Bath graduate Shelley Rudman secured silver at Turin 2006 before Amy Williams and Lizzy Yarnold famously won gold at Vancouver 2010 and Sochi 2014 respectively.
Yarnold is looking to defend her title and will race alongside Laura Deas in the women's competition at PyeongChang, which starts at 11.20am on Friday.
Australian skeleton athlete Jackie Narracott – Parsons' partner who does her sprint training with him as part of Rob Ellchuk's training group at the University of Bath – is also competing.
Parsons is supported by the Team Bath Dual Career programme, which helps him balance study and sport, and was previously a recipient of a Santander Sports Scholarship and backed by the Talented Athlete Scholarship Scheme (TASS) from 2007-2014.
Applications are now being taken for the 2018-19 scholarship programme from existing and prospective student-athletes – click here for more information.
Oh yaaaaaa it's @domparsons BRONZE medal 🥉 What a day for @teamgb and @The_BBSA . pic.twitter.com/exg8VqktKg

— Amy Williams (@AmyWilliamsMBE) February 16, 2018