Britain's top trampolinists have been finalising their preparations for the World Championships – the first London 2012 Olympic qualifier – at the University of Bath.
British Gymnastics has an nine-strong GB team competing at the Trampolining and Tumbling World Championships at the NIA in Birmingham from 17 to 20 November.
The championships are particularly significant this year because the top-eight finishers in the individual qualifiers, subject to a maximum of two p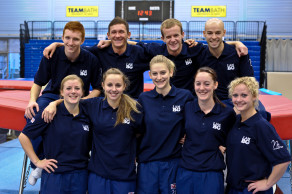 er nation, not only progress to the final but they also book London 2012 qualification places for their country.
If Great Britain don't qualify the maximum of two men and two women from the World Championships, there is a further qualification opportunity via the London Prepares test event at the O2 in January.
The British trampolining team have been holding regular training camps at the University of Bath Sports Training Village since October 2009.
Tim Jones, British Gymnastics Olympic Performance Director, said: "As we've progressed towards London 2012 we have been able to make some significant performance gains across the trampoline programme, with many of our athletes showing real podium potential.  We want to qualify as many places as possible for 2012."
He said Bath has played an important role in the team's preparations.
"When we looked at out performances through 2004 to 2008, we knew we had some distance to make up on the top countries in the world. We made some decisions just after Beijing that we were going to reduce the number of athletes on the programme and focus around a much tighter group.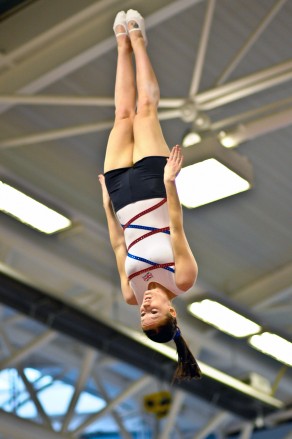 "Part of that project was to find a training base that demonstrated to the trampolinists what the culture of elite sports should be about. The fact that we get the opportunity to rub shoulders with swimmers, rugby players and many other athletes at the Sports Training Village set the right tone for how we want to take the programme forward.
"Bath has been a terrific home and an important part of the process," he added.
Alan Edge, British Gymnastics Programme Director for Trampoline, said: "With both squads – in particularly the Women – being so competitive in world terms, selection has been a nail-biting process which has produced some truly world class performances in order to just make the team. These gymnasts now have a genuine chance to both qualify GB's largest ever trampoline team for the Games but also to be in real contention for Worlds medals."
British champion Kat Driscoll (pictured), current world number one, said she's looking forward to the championships.
"We've got a very strong team – we've never had a team that's this strong in its depth before," she said. "It's a completely new team – none of us were around at the time of the last Olympics."
Britain's team for the championships is:
Individual events
James Higgins
Luke Strong
Jack Helme
Nathan Bailey
Laura Gallagher
Emma Smith
Kat Driscoll
Bryony Page
Synchro events
Luke Strong/Nathan Bailey
Kat Driscoll/Amanda Parker
Laura Gallagher/Bryony Page
The World Championships take place at the National Indoor Arena in Birmingham from 17 to 20 November.
For further details please see the event website at www.birminghamtt2011.com
For further information about Team Bath please contact the Team Bath press office at Matchtight Ltd on 01225 383518.
Photos by Alan Edwards