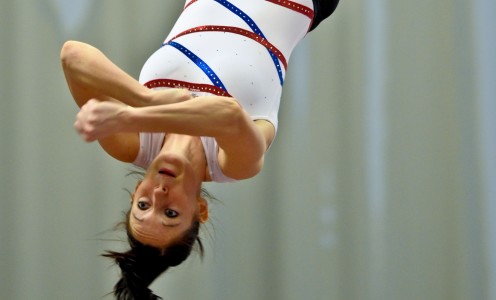 The Great Britain trampolining team, which does some of its training at the University of Bath, has secured its first qualification place for the London 2012 Olympic Games.
Kat Driscoll finished ninth in yesterday's (Thursday) individual qualification round at the World Championships in Birmingham.
A top-eight finish was enough to secure a place in Sunday's finals and also to qualify a GB berth at London 2012 Olympic Games, but not for a named athlete.
With only two gymnasts per nation making the final, Kat jumped to seventh and secured an Olympic place for the GB team.
The British women's team also progressed to the team final in third place
Kat said: "We're so proud of what we've done, I'm proud of the other girls and what they've achieved."
Team-mate Laura Gallagher just missed out on securing anther GB place when she finished 11th, making her first reserve for Sunday's final.
The GB trampolining team have been holding regular training camps at the Sports Training Village since October 2009 and held a pre-World Championships Camp at the University three weeks ago.
There is a further Lonond 2012 qualification opportunity via the London Prepares test event at the O2 in January.
For further details please see the British Gymnastics website or  the event website .
The University of Bath is The Sunday Times 'University of the Year' 2011/2012.
For further information about Team Bath please contact the Team Bath press office at Matchtight Ltd on 01225 383518.
Photo: Alan Edwards