Teenage athlete Amelia Hempleman-Adams is tackling a trip of a lifetime by taking part in a cross-country skiing expedition to the South Pole.
The 16-year-old Team Bath AC high jumper is swapping her athletics shoes for a pair of skis to take part in the 97-mile expedition.
The expedition aims to complete Ernest Shackleton's attempt to reach the South Pole in 1909. Shackleton had to turn back 97 miles from the Pole –but this expedition will symbolically complete the journey.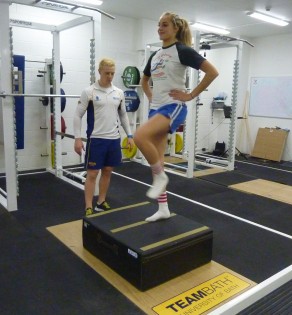 Amelia, who trains regularly at the South West Talent Development Centre at Team Bath, will be in safe hands during the trip – her father David Hempleman-Adams, one of the world's most accomplished explorers, is leading the expedition.
David's many achievements to date include climbing the highest summits in the world's seven continents and reaching the Magnetic and Geographic North and South Poles.
Amelia and the 10-strong team have already headed out to Punta Arenas in Chile in preparation for the trek, before flying to Antarctica to begin the 97-mile trek, which the team expect to compete in about 14 days.
Skiing through temperatures of minus 60 and at altitudes of 2800m are among the challenges the 10-strong.
The trek has been organised by Cold Climates Expeditions and you can follow the team's progress on Amelia's expedition website.
She is pictured during a South West Talent Development Centre training session with strength and conditioning coach Pete Gascoigne.