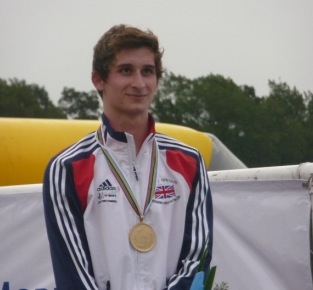 Jamie Cooke is the new Modern Pentathlon World Junior Champion after wining individual gold in Argentina yesterday (Sunday).
The 20-year-old, who trains at the Pentathlon GB High Performance Centre at the University of Bath, had to recover from a disappointing fence that saw him start the day in joint 29th place.
He recovered with another outstanding swim, clocking a 200m freestyle time of 1:53.56 to climb to seventh, then dropped just eight time penalties in the ride to go into the run/shoot in fifth.
Cooke produced a terrific run/shoot to secure his place on the top of the podium.
"I didn't expect to win here today, especially after my fence. This is an amazing achievement, just fantastic," said Cooke.
Cooke's gold took the medal tally achieved so far by the GB team in Buenos Aires to three following Freyja Prentice's individual bronze medal on Saturday and the gold in the team event won by Prentice, Kate French and Lydia Rosling.
Prentice is currently studying for a Biology degree at the University of Bath and both French and Rosling are Sports Performance graduates. Rosling came fifth in the individual competition, with French eighth, while Chemical Engineering student Kerry Prise finished 21st at her first World Junior Championships.
Photo: www.pentathlon.org