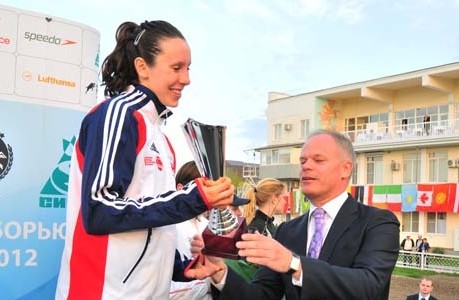 University of Bath student Samantha Murray collected the first Modern Pentathlon World Cup medal of her career when she took bronze in Russia on Saturday.
The 22-year-old French and Politics student followed up her fourth place in Hungary a week ago and sixth in the USA last month with the best result of her career to date.
Her performance comes as the battle for places on the GB Olympic team intensifies – there were five British women in the top-30 in the world ahead of the competition in Rostov with a maximum of two athletes per gender per nation able to compete in the London 2012 pentathlon.
Murray went into today's run/shoot in first place with a five-second lead over compatriot Katy Burke in second, with team-mate Heather Fell starting in seventh.
It was Anastasiya Prokopenko of Belarus who came away with gold. Murray held on to the lead until the final run, but Prokopenko, who went into the run/shoot in 11th, overhauled the Brit on the last 1k run.
Murray, who is a French and Politics student at the University of Bath, was pipped to silver at the finish line by Victoria Tereshuk, Ukraine's Olympic bronze medallist and reigning world champion.
Murray becomes the second British woman to medal on the World Cup circuit this season, following Mhairi Spence's silver in Charlotte, the USA in the opening World Cup of the year in March. Spence is a Coach Education and Sports Development graduate.
Britain's Heather Fell came seventh, with Sports Performance graduate Katy Burke 11th and Katy Livingston, a Coach Educaition and Sports Development graduate, coming 35th.
In the mens competition yesterday (Sunday), Sam Weale, a Sports Technology graduate, secured back-to-back top-20 finishes at World Cups. He followed up his 19th in Hungary last week with 17th in Rostov.