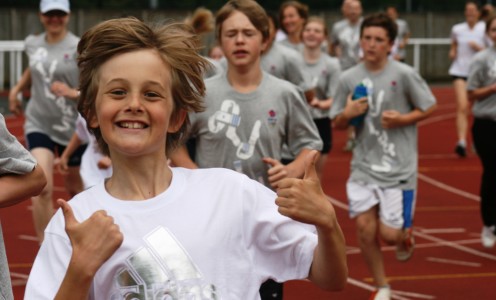 2012-bound badminton player Hadia Hosny El Said, who trains at the University, sent more than 100 people off on today's Olympic Day Run at the Sports Training Village.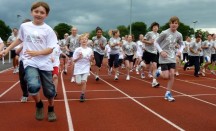 People of all ages took part under the watchful eye of event organiser Greg Sharp over both a 3km and 5km course, including the University's Director of Sport Stephen Baddeley.
The annual run, which took place mercifully between the showers, was part of the Gold Rush open day at the Sports Training Village which saw members of the public soak up the Olympic spirit in a special year for the nation by trying sports like trampolining, badminton, tennis and bobsleigh – all on the Olympic programme.


"We were busy from the moment we opened at 12 noon", said Lisa Ashcroft, one of the event's staff.  "The run has been popular but people have also tried the sports on offer as well as watching the netball match and the gymnastics display".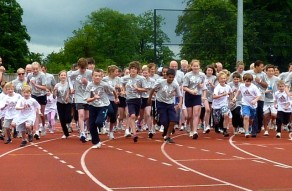 Trampolining and tennis proved popular with the younger element whilst several of the "dads" were itching to try out the bobsleigh.
The gallery of the Sports Training Village housed a number of local stall-holders and there were options to try out sports massage.
"I really enjoyed the day.  Doing the run gave me a great sense of achievement", said one happy participant.
For further information please contact the Team Bath press office at Matchtight Ltdon 01225 383518 or by email at press@matchtight.co.uk
You can also find out more about Team Bath at www.teambath.com <http://www.teambath.com>  ,follow us on Facebook at www.facebook.com/teambath <http://www.facebook.com/teambath> or on Twitter at https://twitter.com/#!/teambath

The University of Bath is The Sunday Times University of the Year 2011/12.