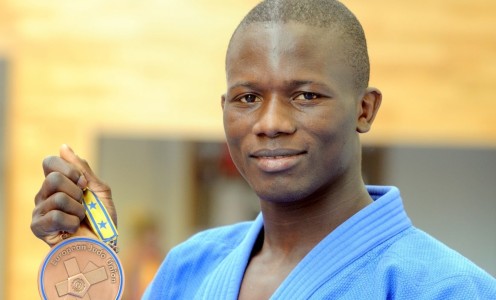 Ghana judo player Emmanuel Nartey's Olympic preparations have been boosted by winning a medal in his final competition ahead of London 2012.
The Team Bath athlete, who also serves in the British Army, makes a piece of history when he becomes the first Ghanaian judo player to compete at an Olympic Games.
He warmed up for the biggest competition of his life by winning bronze at the European Cup in Istanbul at the weekend.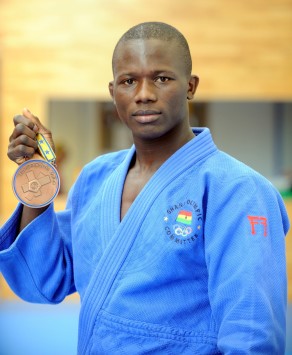 Emmanuel, who is finalising his London 2012 preparations at the University of Bath before moving to the Olympic Village on Monday (23 July), beat Russia's Artur Khakhuk in the battle for the bronze medal in the men's under-73kg class.
"It was my final preparation, and also a baseline to test my fitness and the training I've been doing for the last three or four months, so I was pleased to win a medal," he said.
"With this result I feel confident and ready for the London 2012 Olympic Games."
Emmanuel said he will be proud to be the first judo player to represent Ghana at an Olympics and he hopes his performances will prove an inspiration to other young athletes in Ghana and Africa.
"It will be a proud moment and a big achievement for me to compete at the Olympics," he said. "It's not just about me, it's about opening doors for future generations coming through."
Juergen Klinger, head judo coach at the University of Bath, will also be coaching Emmanuel at the Games.
Emmanuel is permanently based at Team Bath and is currently training alongside two other athletes who are attending preparation camps at the Sports Training Village ahead of the Games – Kyle Maxwell will represent Barbados and Sled Dowabobo will compete for Nauru.
All three athletes will compete in the under-73kg class competition on Monday 30 July.
For further information please contact the Team Bath press office at Matchtight Ltd on 01225 383518 or by email at press@matchtight.co.uk
You can also find out more about Team Bath at www.teambath.com , follow us on Facebook at www.facebook.com/teambath or on Twitter at https://twitter.com/#!/teambath