Tomorrow (Wednesday) is set to be a huge day for sport at the University of Bath, with students and graduates battling it out for medals for Great Britain in rowing and swimming at the London 2012 Olympic Games.
University Sports Technology graduate Heather Stanning and her rowing partner Helen Glover are first up, representing Great Britain in the final of the women's pair in the morning.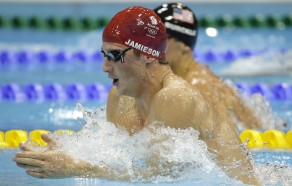 And later in the day University of Bath students Michael Jamieson and Andrew Willis go in the final of the men's 200m breaststroke after producing stunning performances in today's heats and semis.
Heather and Helen both learned to row through the GB Rowing Team's Start programme in Bath. They looked in impressive form in the heats on Saturday when the set an Olympic record to cruise straight into the final, which takes place at Eton Dorney at 11.50.
Attention turns to the pool in the evening when University of Bath students Michael Jamieson and Andrew Willis (left), who both train at the British Swimming Bath Intensive Training Centre, go in the 200m breaststroke final at 19.30.
Michael, a University of Bath Sports Performance broke the British record in the heats this morning with a time of 2:08.98 – making him the first British man to dip under 2:09.00. He served up a repeat performance in the semi, smashing his new best to win his semi in another British benchmark of 2:08.20.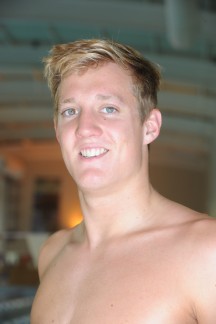 Andrew had also impressed in the heats, equalling his own English record with 2:09.33.  The Chemical Engineering student slashed that further to finish second in his semi in 2:08.47.
Michael, who like Andrew is coached in Bath by David McNulty, said: "I'm really happy with the time and I'm really excited for tomorrow, but I know there's a long way to go yet."
He also thanked his support team and training partners at the Bath ITC. "It's been a huge team effort. Myself and Andrew are swimming for the rest of the squad as well," he added.
Andrew added: "The crowd really helped me today, it was unbelievable. It's amazing that we're both doing so well and that we'll both be in the final."
Wednesday also sees Stacey Tadd make her Olympic debut in the women's 200m breaststroke heats, while Chris Walker-Hebborn contests 200m backstroke heats.
The Team GB beach volleyball pairing of Zara Dampney and Shauna Mullin, who do their UK training at the University of Bath, faced a tough second contest against the Italian pairing of Marta Menegatti and Greta Cicolari.
The Italians shaded the opening set 21-18 and followed that up by taking the second 21-12.  The GB pair now face Russia's Ekaterina Khomyakova and Evgeniya Ukolova in their last  pool game on Thursday (2 August).
"It's very disappointing that we lost. The major thing for us coming out of that match is if we'd have played two sets like we had in the first set, then I think we would be in a better frame of mind," said Shauna "It's very disappointing to have lost that second set like that."
"There were some good plays and we've got to focus on the positives," said Zara. "We'll be fixing whatever it was that went wrong today."
For a round up of this morning's London 2012 action featuring athletes with University of Bath links, please go to http://www.teambath.com/2012/07/31/jamieson-and-willis-impress-en-route-to-semis/
For further information please contact the Team Bath press office at Matchtight Ltd on 01225 383518 or by email at press@matchtight.co.uk
You can also find out more about Team Bath at www.teambath.com , follow us on Facebook at www.facebook.com/teambath or on Twitter at https://twitter.com/#!/teambath