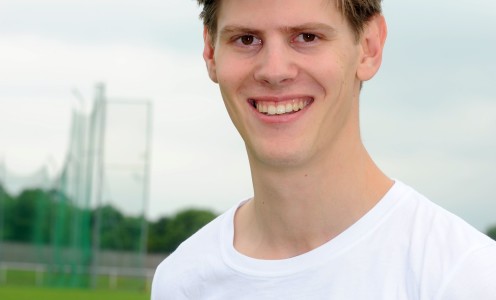 Lawrence Clarke progressed safely to tomorrow's (Wednesday) 110m hurdles semi-final, but training partner Andrew Pozzi missed out after failing to finish his heat due to injury.
Lawrence came home second in his heat this morning. "I'm so glad I'm through," he said. "! was a bit nervous this morning. I sat in my blocks and tried to keep it clean and run between.
"My dream is to make the Olympic final," he added. "I've just got to run my best every race."
But there was disappointment for Andrew, who like Lawrence, is coached by Malcolm Arnold, UK Athletics National Events Coach Hurdles.
He pulled up after the first hurdle in his heat, suffering from the hamstring injury he sustained at Crystal Palace last month.
Afterwards he said he had been determined to give it a go at his first Olympics.
"I feel privileged to be here. You train throughout the winter months and things like this make the hard work worth it," he said.
"I thought I'd try to give it a go but it just didn't come off. To leave like this is heart-breaking. I'll go back to training now and try to get this healed."
For further information on Olympic schedules for athletes with University of Bath links go to http://www.teambath.com/sport/olympic-paralympic/schedules-results/
Medals won by GB athletes with University of Bath links
Current students
Silver: Michael Jamieson (Sports Performance) – swimming, 200m breaststroke
Alumni
Gold: Heather Stanning (Sports Technology) & Helen Glover – rowing, women's pair
Silver: Gemma Gibbons (Sports Performance) – judo, under-78kg
For the latest news on performances of athletes with University of Bath links at London 2012 follow us on Twitter at twitter.com/teambath
For further information please contact the Team Bath press office at Matchtight Ltd on 01225 383518 or by email at press@matchtight.co.uk
You can also find out more about Team Bath at www.teambath.com , follow us on Facebook at www.facebook.com/teambath or on Twitter at twitter.com/teambath