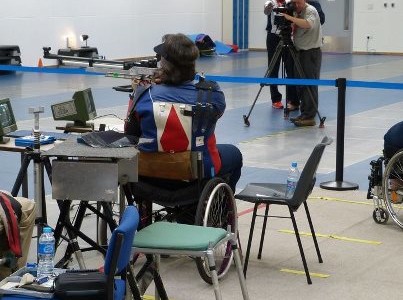 Over 40 athletes from three sports have settled into the Preparation Camp at the University of Bath in the past 48 hours with more sports soon to join them.
Footballers, archers and shooters rubbed shoulders in Bath yesterday.
Performance Director Penny Briscoe, paid tribute to the lottery funding which has made such a state-of-the-art camp possible.
"We have raised the bar in our preparations in this four year cycle", she said. "But so, too, have other nations".
"A big difference for Paralympic sport since Beijing has definitely been the uplift in lottery funding".
Athletes at Bath are using the £30 million Sports Training Village and on-campus accommodation. A large marquee area has been erected to replicate the kind of dining facility they will encounter once in the Paralympic Village at Stratford.
"It is all about creating a multi-sport base environment which replicates some the Games-time environment so that it is more familiar to both athletes and staff", added Briscoe who has also assembled a team of world class support staff including physiotherapists, sport scientists and operational staff.
Other ParalympicsGB athletes are training at home and overseas this week for the Games which begin on August 29 and run until September 9.
Another big concentration has gathered early at the track and field camp in Portugal this week with cyclists and swimmers remaining at their traditional training homes in Newport and Manchester respectively.
For further information please contact the Team Bath press office at Matchtight Ltd on 01225 383518 or by email at press@matchtight.co.uk
You can also find out more about Team Bath at www.teambath.com , follow us on Facebook at www.facebook.com/teambath or on Twitter at twitter.com/teambath