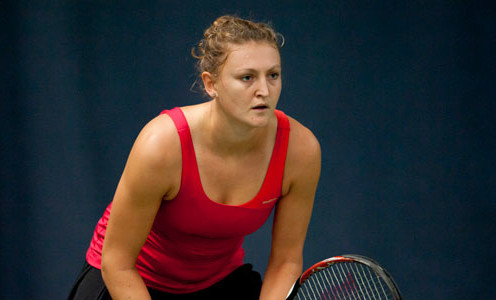 Team Bath MCTA tennis player Samantha Murray followed up her maiden Challenger title at the Glasgow $25,000 event by reaching the quarter-finals of the $50,000 National Bank Challenger in Saguenay, Canada.
Murray took out Marie-Eve Pelletier, the number eight seed from Canada in the first round, and followed that up with a win over Michaela Honcova of the Slovak Republic 6-2, 6-4.
That set up a quarter-final match against WTA number 98 ranked Melanie Oudin from the USA.
Oudin, the former world number 2 junior, has already won twice at $50,000 level this year, and was too strong on this occasion, defeating Murray 6-2 6-2.
Head Coach David Sammel said Murray, who is now ranked 282 in the world, has made some big strides since joining Team Bath MCTA two years ago.
"Sam is an excellent competitor with a superb work ethic and in 2011, her first year on tour she climbed from zero ranking to 370," said Sammel.
"Her determination and trust in the game style was severely tested this year, but as a team we stuck to the process. I have been saying since April that she will have a run this year. It took a while but it is testament to her bravery to keep doing the right things no matter how poor the results.
"She has worked hard and now she has some reward for her determination. This is also a reward for the team at Bath who constantly work for small improvements," he added. "I'm very pleased that Sam has backed up the win in Glasgow by progressing in Canada. This is important and a good consolidating step."
Team Bath MCTA players in action this week:
Lisa Whybourn is heading to the main draw of the $75,000 Challenger in Barnstaple, where Academy player Brigit Folland has won her opening qualifying match 76 60.
Murray remains in Canada playing another $50,000 event, this time the Tevlin Women's Challenger in Toronto.
Fran Stephenson plays the $25,000 Ramada Netanya Open in Israel, after her and partner Anastasia Kharchenko (UKR) reached the semi-finals of last week's women's doubles in Ashkelon $10,000.
Both Toby Martin and Rich Gabb record first round wins in this week's men's $10,000 in Israel.
You can find out more about Team Bath on our website teambath.com
You can also follow Team Bath on Twitter at twitter.com/teambath or facebook.com/teambath
For further information please contact the Team Bath press office at Matchtight Ltd on 01225 383518.