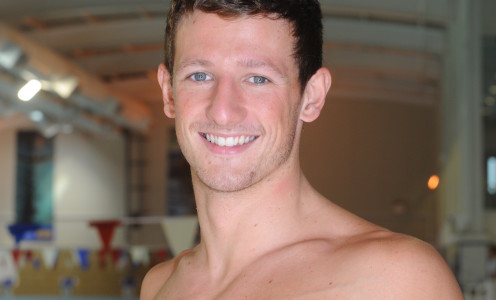 Olympic silver medallist Michael Jamieson collected a hat-trick of titles to help the University of Bath team to second place at the British Universities and Colleges Sport (BUCS) Short Course Swimming Championships.
Despite still being in heavy training at the start of the season, Jamieson set a BUCS record of 2:06.65 to comfortably win the 200m breaststroke final.
The University of Bath Sports Performance student followed that up with gold in the 50m breaststroke final in 27.94 seconds and in the 100m breaststroke in 59.62.
And Jamieson, who trains at the British Swimming Bath Intensive Training Centre, also collected bronze in the 200m individual medley in Sheffield.
He rounded off his campaign with a fifth medal and a second bronze, in the 4x50m medley relay, along with Justin Austin (Sport & Social Science), Eamon Rivers (Civil Engineering) and Calum Jarvis (Sports Performance).
His performances earned Jamieson the top male swimmer plaudit at the championships.
Pharmacy student Anne Bochmann, also a Bath ITC swimmer, came home with gold in the 200m freestyle, clocking a time of 1:57.64.
She also took silver in the 4x50m freestyle along with Jenny Oldham (Sports Performance), Georgina Lockwood (Biochemistry) and Hayley Towner (Sports Performance).
Bochmann, Oldham, Towner and Pharmacy student Sophie Brooks joined forces to win bronze in the in the 4x50m medley relay final.
Oldham won another silver in the 50m backstroke final, while there were bronzes for Jarvis the 200m backstroke and Towner in the 100m freestyle.
The University of Bath finished second in the overall team rankings, with the women finishing second in women's competition and the men coming third in their team event.
Mark Skimming, head swimming coach at the University of Bath, said: "We did a great job as a team. New rules allowed us to take the largest team to BUCS short course we ever have.
"We had a lot of freshers in the team and they all did a stand-up job, while experiencing a whole new type of competition," he added. "The aim is now to move forwards for the rest of the season. This is a great starting point but we will aim higher and swim faster."
Full results are available at http://www.bucsswimming.org.uk/sc12/index.php
You can find out more about Team Bath on our website teambath.com
You can also follow Team Bath on Twitter at twitter.com/teambath or facebook.com/teambath
For further information please contact the Team Bath press office at Matchtight Ltd on 01225 383518.