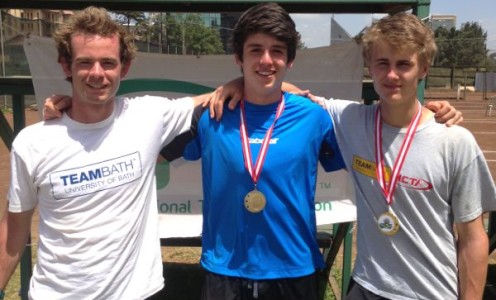 Team  Bath MCTA Academy players  Seb Butler and Dan Little are celebrating victory in the boys' doubles at the Nairobi International Junior Championships in Kenya.
The Bath pair kept their nerve to beat Brit Jay Clarke and partner Mwendwa Mbithi from the USA 76(2) 76(5) in the final of the ITF (World Junior Tour) Event.
The win was particularly pleasing considering this was the first time the boys had paired together, and also the first time that they had travelled outside Europe.
Academy coa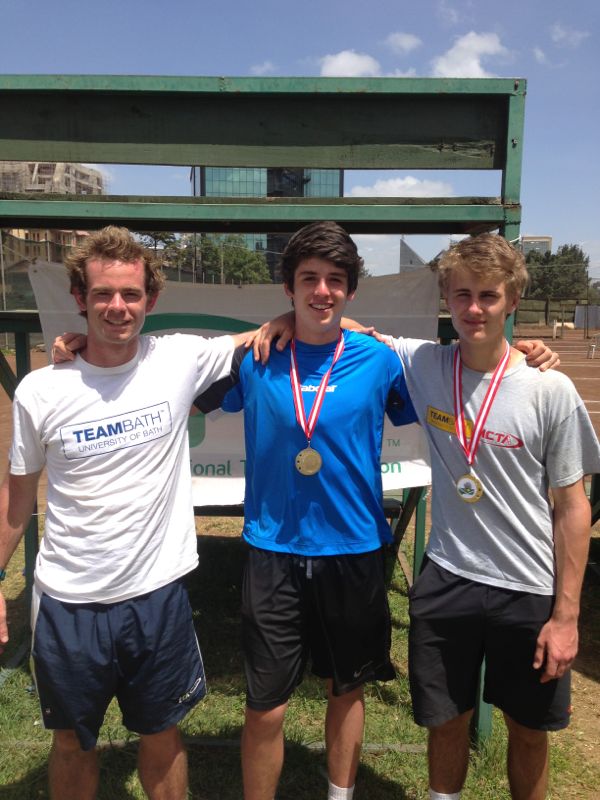 ch Jamie Feaver said of the boys' display in the final: "Seb had great presence on court and Dan was extremely composed."
On the way to final they defeated second  seeds Liu (SIN) & Terczynski(POL) 61 61 in round 2; then edged out Will Bissett and partner Janglin (Swe)6-3 6-7(7) [10-7].
Fellow Team Bath MCTA Academy players Freddie McGeehan and Will Bissett also gained great experience on the trip. Feaver said: "All of the boys have impressed me with their effort and focus all week. This is a tough environment for them to perform in."
In the singles the boys found the step up to the level of competition tough, but applied themselves well.
Freddie beat Lu of China 75 75 then narrowly missed out on a place in the main draw losing to Soto of Spain
in a third set tie break.
Will and Seb won their qualifying matches against Hermans (Belgium) and Liu (CHN), and Hendler (NED) respectively. In the main draw Will lost out Hayiyambere (RWA) 76 62; Seb lost to Hou-En (TPE) 26 62 62 and Dan lost to Raschiatore (AUS) 46 63 63.
The team remain in Nairobi for next week's assault on 5th Kenya International Championships before returning to Bath to prepare for a busy Easter tournament programme in Malta and Nottingham.
Other recent notable performances are Millie Bissett winning the Orange Ball National Grade 2 event in Nottingham and Chris Morrow who won the U18 Boys' Winter National Tour at the National Tennis Centre.
Pictured are (left to right)  Jamie Feaver, Dan Little & Seb Butler