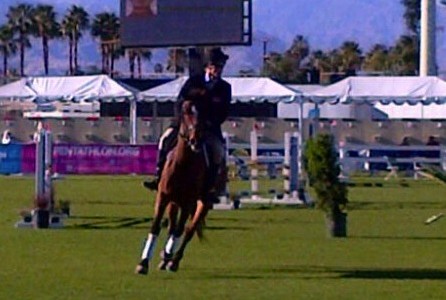 Nineteen-year-old Joe Evans produced a stunning performance to win bronze at his first Modern Pentathlon World Cup.
Evans, a Sports Performance student at the University of Bath and a product of Pentathlon GB's World Class Talent Pathway, performed consistently throughout the day at the opening World Cup of the new Olympic cycle.
He crossed the finishing line at Palm Springs in California just eight seconds behind world champion Alexander Lesun of Russia and two seconds off Adam Marosi, Hungary's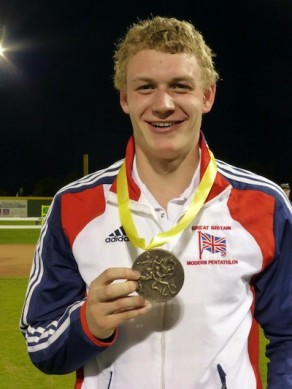 Olympic bronze medallist.
British team-mates Jamie Cooke came home 18th with 19-year-old Sam Curry 23rd on his World Cup debut.
Evans started the day well, winning 20 of his 35 fencing bouts for joint eighth place with 880 pentathlon points. Curry won 19 contests for joint 12th with 856 points, while Cooke, Britain's 2011 world junior champion, scored 13 wins for 712 points, putting him 32nd.
Cooke produced a typically strong 200m freestyle swim to climb up the leaderboard, His 2:01.00 was the third fastest time of the day and worth 1348 points, pushing him up to equal 27th.
His time was only slightly faster than Evans, whose 2:01.69 was fifth fastest, adding 1340 pentathlon points to his total. That saw him climb up to joint sixth place on the leaderboard.
Curry's 2:07.47 was the 18th fastest time of the day worth 1272 points, putting him 15th going into the ride.
Evans kept up his challenge in the riding arena. On a day when only one rider, Ireland's Eanna Bailey, went clear in the allowed time, Evans dropped just 40 points from the maximum 1200 to add 1160 to his total. That was enough to ensure he went into the combined run/shoot in second place, five seconds behind leader Amro El Geziry of Egypt.
Curry dropped 46 from the maximum to put him sixth overall with Cooke adding 1096 to his total to go into the run/shoot in 25th.
And Evans rounded off a fantastic day with a run/shoot time of 11:35.64 to claim the bronze medal at his first World Cup. His time was 22nd fastest of the day, earning 2420 points, but it was enough to ensure he finished 10 seconds clear of Russia's world number two Ilia Frolov, who came home fourth.
Cooke climbed up the field to 18th courtesy of a combined event time of 11:23.42 worth 2468. Curry's 12:16.05, worth 2256 points, was 33rd and saw him finish 23rd.
The GB team train at the Pentathlon GB High Performance Centre at the University of Bath.
Later today four GB women will contest the women's final – Katy Burke Heather Fell, Kate French and Jo Muir all qualified from Thursday's heats.
Because of the eight-hour time difference between the UK and California, a round-up of the women's final will be sent out tomorrow (Saturday) morning.
World Cup 1 men's final results
Gold: Aleksander Lesun  (RUS) – 5832 points
Silver: Adam Marosi (HUN) – 5808 points
Bronze: Joe Evans (GBR) – 5800 points
18th: Jamie Cooke (GBR) – 5624 points
23rd: Sam Curry (GBR) – 5540 points
British team for World Cup 1 in Palm Springs, USA
(format: name – date of birth, home town – current home)
Women
Katy Burke – 01.06,89, Cleveleys, near Blackpool – Bath
Heather Fell – 03.03.83, Tavistock, Devon – Bath
Kate French – 11.02.91, Meopham, Gravesend – Bath
Jo Muir – 30.08.94, Dumfries – Bath
Men
Jamie Cooke  – 03.03.91, Cheltenham – Bath
Sam Curry – 03.09.93, Redhill – Bath
Joe Evans  – 05.09.93,  Whitchurch, Shropshire – Bath
Tom Toolis – 23.12.92, Hornchurch, north east London- Bath
World Cup 1 schedule
Saturday 23 February: women's final
Please note, Palm Springs is eight hours behind GMT.
2013 senior modern pentathlon calendar
20-24 February: World Cup 1 – Palm Springs, USA
20-24 March: World Cup 2 – Rio de Janeiro, Brazil
17-21 April: World Cup 3 – Chengdu, China
8-12 May: World Cup 4 – Budapest, Hungary
31 May – 2 June: World Cup Final – Nizhny-Novgorod, Russia
11-17 July: European Championships – Drzonkow, Poland
15-21 August: World Championships – Kaoshiung, Chinese Taipei
Pentathlon GB is the National Governing Body for the Olympic Sport of Modern Pentathlon. For further information please see www.pentathlongb.org
You can also follow us on Facebook at www.facebook.com/PentathlonGB and on Twitter at www.twitter.com/PentathlonGB
For further information members of the media can contact the Pentathlon GB press office at Matchtight Ltd on 01225 383518 or 07765 071683.