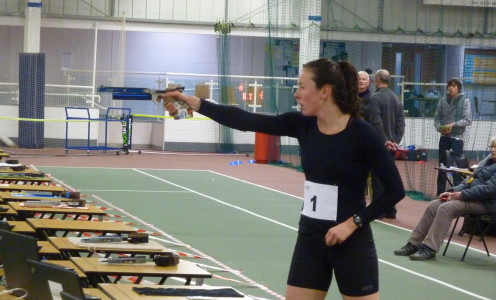 University of Bath student Samantha Murray produced a fine all-round performance to collect her first British Championships title on Saturday.
The French and Politics student already has an Olympic silver medal and a World Championships bronze, but hadn't yet won a British crown until her victory in Solihull.
Murray is now focussing on studying for her finals for her French and Politics degree at the University of Bath later this month.
"I had a fantastic day," she said afterwards. "I was relaxed coming here and I wanted to win to secure my place at the European Championships.
"I started training again after the Olympics in January and I felt strong today," she added. "My running has improved since the World Cup in Rio last month, when I finished fifth."
Pentathlon GB's High Performance Centre is based at the University of Bath, so there was a strong showing by Bath-based athletes and University students and graduates.
Murray won the overall women's title and the senior title, with graduates Kate French and Katy Burke finishing second and third respectively in the senior competitions.
Sports Performance student Jo Muir was second in the women''s junior competition with Chemical Engineering student Kerry Prise third.
Bath-based athlete Jamie Cooke won the senior men's event from Sam Weale, a Sports Technology graduate, with Business Administraton student James Myatt in third.
Sports Performance student Joe Evans took silver in the men's junior competition with Sport & Exercise Science student Tom Toolis finishing third.