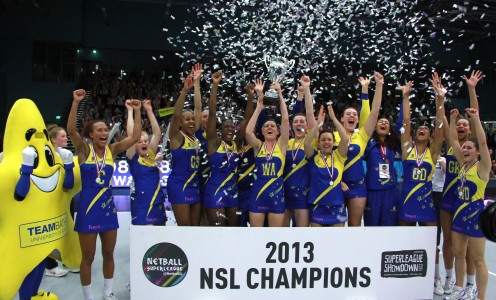 Team Bath battled to a fifth Netball Superleague win – their first since 2010 – tonight in Worcester with a 62-56 win over Celtic Dragons.
The Team Bath squad started as marginal favourites despite losing to Celtic Dragons at home in the Showdown Phase of the league.
This was a brutal and see-sawing final with neither side able to establish a significant lead until the final four minutes when Team Bath surged to the victory just when it mattered.
"It has to go down as the hardest fight we have ever had to bring the title home", said Team Bath coach Jess Thirlby after the match.
"We were a goal down with 10 minutes to go at 47-48 and it was a massive team effort in that final period to get ourselves ahead again", she added.
Team Bath toughed out the opening quarter to reach the first interval at 16-15. Pamela Cookey and Kadeen Corbin both misfired twice apiece, somewhat unusually in this quarter, whilst Dragons worked relentlessly to get the high ball into their goliathan shooter Lottysha Cato.
"We always knew that threat was going to be there and it can be demoralizing at times that no matter how hard you work you know that is always there", said captain Asha Francis.
"But I am so proud of the team, really proud. I know we have the history but this is a different group of girls and every campaign is different. We worked so hard in the final quarter to get the result", she said.
Sam Cook, at goal-keeper for Team Bath, leapt to three turn-overs to make the difference for her side in the opening quarter. At wing-defence Serena Guthrie won the battle with opposition Aussie Kyra Jones.
The feed from Mia Ritchie and Asha Francis into the circle was world-class with Corbin and Cookey moving at pace to create space to receive the ball and shoot.
In the second quarter Dragons made the best use of their mobile goal-attack Cara Moseley, leaving Cato as the long-range target time after time with the kind of success that saw them draw ahead 23-20 and 26-23.
Team Bath had to draw on two superb turn-overs from feisty England goal-defence Stacey Francis to stay in contention. All seven players in the blue and gold worked tirelessly to draw level at 28-28 with just two minutes and 20 seconds remaining.
The two sides exchanged blows until the final 12 seconds when Dragons drew a goal ahead 31-30.
Team Bath started like they hoped to continue in the third quarter with a turn-over in defence to level and then go ahead at 32-31 only for Dragons to counter.
Trading goals in a tense 10-minute period, it became clear that all the little things would count. So a fumble from Dragons with four minutes to go and a Stacey Francis turn-over put Team Bath on the front foot to go 43-40 ahead in their best run of play of the match until then.
At 46-43 to Bath, an injury time-out for the Dragons goal-keeper stalled the momentum and Dragons hit back with two more long passes into Cato to pull back to a two-goal deficit at three-quarter time with Bath leading 46-44.
Two loose Team Bath mistakes from their first two centre-passes allowed Dragons straight back into the game. At 51-51 Corbin made a crucial intercept deep in defence to nudge Team Bath 52-51 ahead.
"I feel as if Kadeen (Corbin) has come of age in netball terms tonight, playing a half at goal-attack", said Thirlby.
Next, the ever-terrier-like Mia Ritchie troubled the opposition off the ball to set up a move to put Bath another goal ahead.
At 55-52 Team Bath's experience began to tell when Cookey nailed a long shot to put them 56-52 ahead.
Holding their nerve the Team Bath squad played like a cohesive unit, grafted hard and moved the ball patiently around the court to find the openings to give them a 58-55 and then 59-55 lead before closing out the whole match with a turn-over and a score from Corbin to win 62-56.
For further information go to http://www.teambath.com/sport/netball/superleague/
Quarter scores (Team Bath first): 16-15; (14-16) 30-31; (16-13) 44-46; 16-12 (62-56)
Starting Sevens & Changes
TeamBath: GS Kadeen Corbin, GA Pamela Cookey, WA Asha Francis (capt), C Mia Ritchie, WD Serena Guthrie GD Stacey Francis, GK Sam Cook
Bench: Shaunaugh Craig, Sophie Masterson, Yasmin Parsons, Gemma Stewart, Amanda Trounce.
Coaches: Jess Thirlby, Denise Ellis
Changes: Q2: Ritchie – WD, Guthrie – C; Q3: Corbin – GA, Cookey – GS.
Celtic Dragons: GS Lottysha Cato, GA Cara Moseley, WA Suzy Drane (capt),C Krya Jones, WD Nicola James, GD Stephanie Williams, GK Sara Hale.
Bench: Bethan Dyke, Nia Jones, Chelsea Lewis, Jenna Murie, Emma Thomas.
You can find out more about Team Bath on our website teambath.com
You can also follow Team Bath on Twitter at twitter.com/teambath or facebook.com/teambath
For further information please contact the Team Bath press office at Matchtight Ltd on 01225 383518.